The Most Unusual Ways to Play With Blue in Your House
The colour of the sky and the oceans is one of the most common home colour choices that homeowners make for different parts of their home. The tranquillising blue colour symbolises purity, peace, calmness, and radiates all sort of positivity, which is what makes it so popular. With so many hues of blue wall painting colours, there's one home colour for each of your moods, personality types, and rooms. If you have been planning to paint your house, we have a different approach for you that you can experiment with this time. Let's just pick a wall painting colour like our Debonair (2371), and see how we can create a masterpiece-like home. You can always pick another blue of your choice and follow these creative ideas too. Flowy Curtains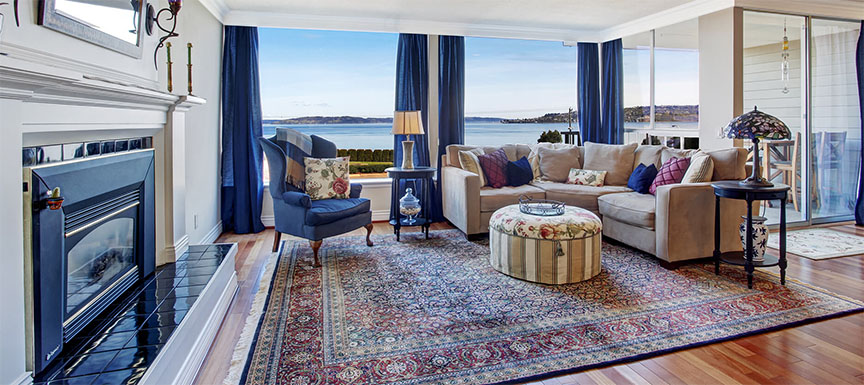 Imagine a room with a white wall painting colour, low-toned furniture, and blue curtains, - the curtains being the main focal point in the room. It is that easy to achieve a mesmerizing look! All you have to do is pick lace and crepe curtains and draperies that lets the sunlight in to complement the ambience of your room. If you live in colder regions, you can opt for thicker cotton or silk curtains too. They all add vibrancy to your home setting. Plush Upholstery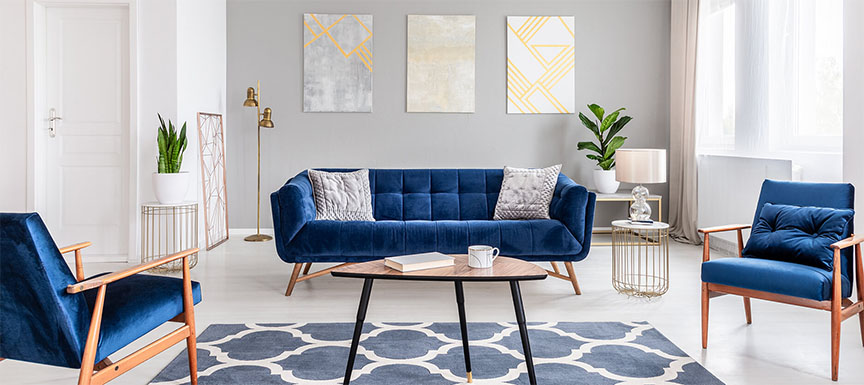 If you currently have dark blue-coloured furniture in your home, you already know how to decorate your house. But if you don't, you just have to shop for these rich-hued cushion covers, sofa covers, table covers, and other upholstery. And if you are willing to give your space a facelift with new furniture, you have a lot to opt from. A dark blue-coloured wing chair, a plush couch, an L-shaped large sofa, and other furniture pieces are what you must look for. Interestingly, these furniture pieces go well with most wall painting colours. From white to pastels to contrasting colours like yellow and pink, vibrant blue furniture and upholstery double the brilliance of any backdrop. Marvellous Accent Walls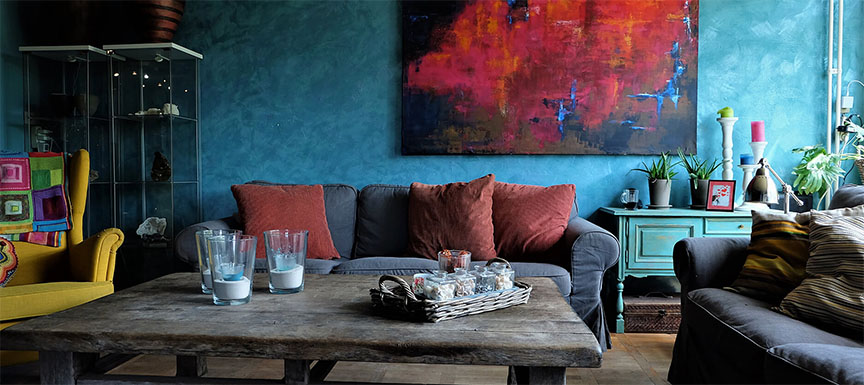 Move away from the usual four-wall-of-the-same-colour. Add a touch of style to your space with a smart accent wall. Let three walls of your room be of a lighter home colour shade of blue, something like Rainy Day (2417) or Cathedral Blue (2375), and the accent wall can be painted with Debonair. If that's too much blue, add some contrast with Tango (4114), Texas Yellow ( 2013), Topiary (4354), or Bluish Gray (4550). And yes, you can also do the opposite -paint most of your house with the dark-toned wall painting blue and have a lighter accent wall. Your accent wall need not be single-toned. It can also be dressed up with vivid patterns and textures for added style, just like the modern denim texture or a sophisticated velvet one. Spectacular Flooring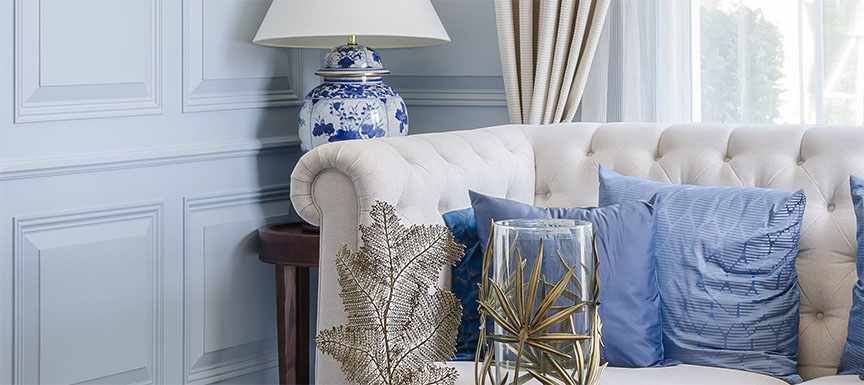 Did you know that the flooring by itself can change the ambience of practically any room? Yes, that's how impactful the flooring is. Again, imagine a white-coloured house, or maybe something in muted wall painting colour, and dark blue flooring. Your eyes will be forced to be glued to the floor, but for all good reasons. If you are renovating your home, opt for blue tiles or floor veneers. But if you don't have any plans for renovating your house, there's a smart option to throw some dark blue on the floor. Go shopping and pick a big rug or carpet that covers a large area of your home's flooring. Furry, woven, printed, shaggy, or pokey - pick whichever style you like, but in deep-toned blue so that it catches all the attention and makes your room look alluring. Let this gorgeous blue shade make its way to your home, and not just as a wall painting colour. Wood paint for doors and windows, artistic tiles for walls and ceiling, smart and cute blue accessories, cabinets and shelves with blue laminates, designer blue wallpaper, and even blue-coloured electronics like refrigerator and microwave are more than usual ideas to add a serious dash of blue to your home.
Nerolac Paints, a leading paint company in India offers a wide range of paint colors & decorative wall painting solutions for homes & offices.
Get In Touch
Next Blog
Soothing Bedroom Colours for Your Parents
get our updates in your inbox!