6 Trending 2019 Interior Paint Colours to Inspire You
The year has started and so have the searches for the interior paint colours that will dominate throughout the year. While some colours, shades, and tones remain evergreen, a lot of them are going to trend throughout the year. You can use these colours, take inspiration from Pinterest, play around in your unique way, and discover some beautiful interior paint ideas. So which are these colours of 2019? The list is right here.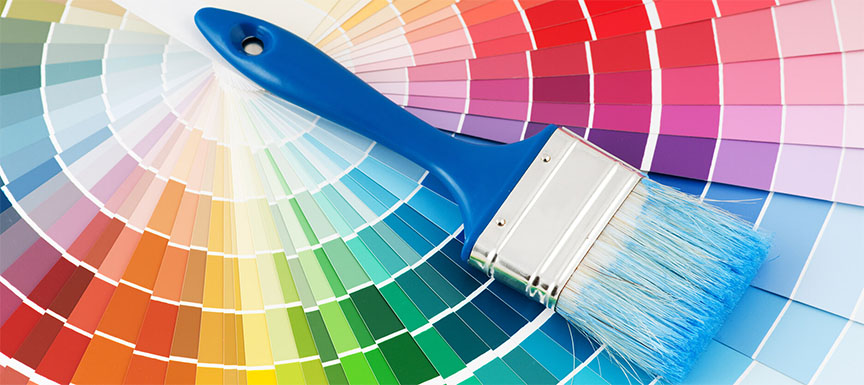 1. Refreshing Citruses Lime-and-lemony citrus shades are refreshing and create a sense of excitement for those in rooms that are painted with these colours. Lively shades like Nasturtium (2070), Bumble Bee (2014) and Wild Lime (2594) instantly add a pop of refreshment and energy to your entire space. You can paint practically any part of your house with the shades of tangerines, limes and lemons, and it will look alluring. Don't forget to place contrasting-coloured chairs and tables, shelves and cabinets, and lamps to create a perfectly high-spirited ambiance to live in. To add to the beauty, hang some black-bordered photo and painting frames on the walls.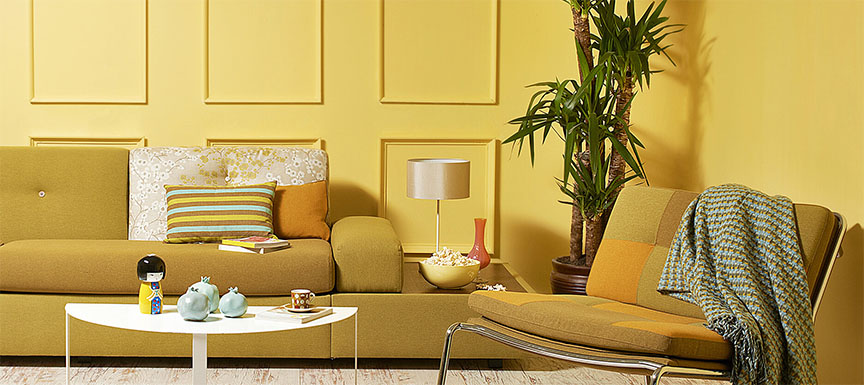 2. Innovative Greens In 2019, homes will move away from the usual and contemporary shades of green and embrace more innovative tones. Colours like Nerolac's Relaxing Corner (4344), Serpentine (2538), Emerald Forest (2524), Amazon Trail (4376), Turquoise Tone (2511) are surely going to be "in" colours. So, to be in line with the latest interior paint ideas and trends, paint your living room and bedroom walls with these colours. If you have French or wider windows, these colours are ideal for you. When these elegantly-coloured walls are sun kissed, the beauty of your entire room is multiplied.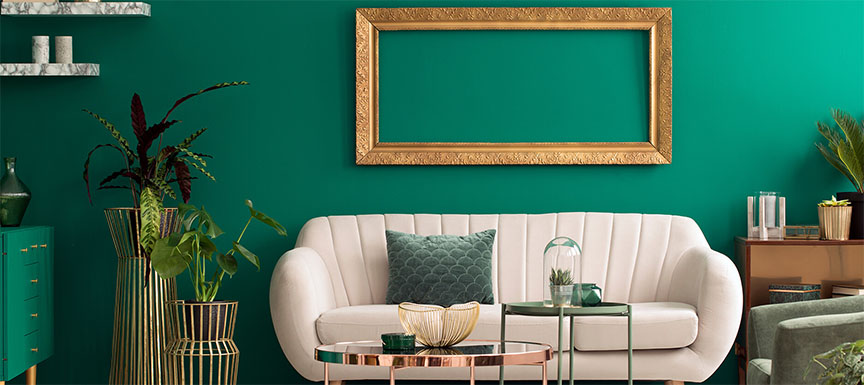 3. Simple Neutrals Pastels, neutrals, beiges, and almost whites have been ruling the list of interior paint colours for a while, and will continue to do so. Paint your home with lighter shades of any colour or simply pick your favourite colour from Nerolac's Masterpiece Whites. By doing so, your house will be ready for any kind of décor setting, whether quirky or posh. Depending on what kind of setting you wish to create, you can select the colour and pattern of your upholstery, furniture, and accessories. In most cases, dark-coloured furniture pieces, curtains, and cushion covers look classic. Neutral walls are ideal to do some creative stencil-work on. They also act as ideal matches for deeper-toned accent walls.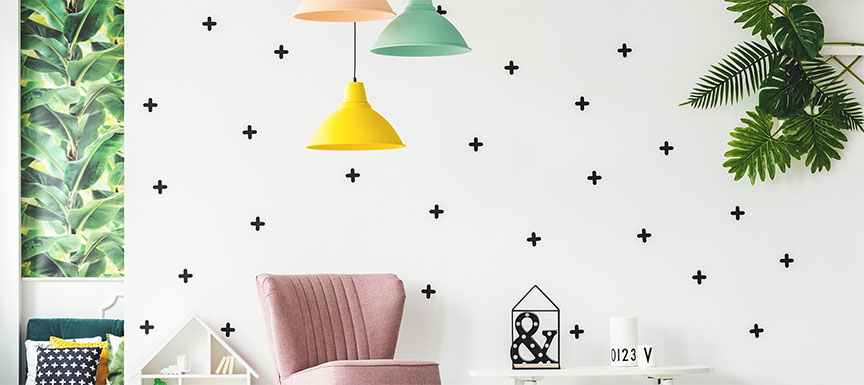 4. Deep Berries The darker and darkest tones of purple, red, and pink can never go wrong. They are some of the best interior paint colors, and will become even trendier in 2019. So, select your favourite hue for your living room, drawing room, bedroom, kitchen, study room, and other spacious rooms. Add some sparkle with shimmery accessories and lighting elements to complement the charm of berry-coloured walls. You can even create a royal setting by placing beige and light- or pale-coloured couches and tables. If you are up for trying something stylish, try dual-toned patterns on the walls - something like cotton, mesh, velvet, or stamps look very classy.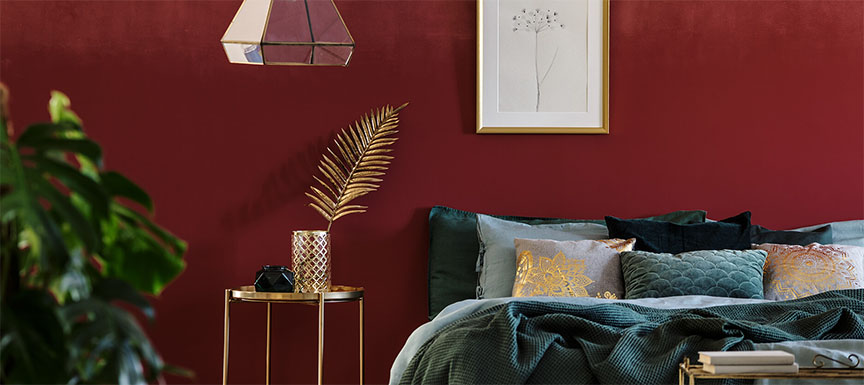 5. Calming Aquas Aqua is a bright yet calming, cheerful, and relaxing shade for your interior paint ideas. Nerolac's Symphony (4335) is the ideal aqua colour that you need in your house this year. But if you are a fan of deeper shades, Intricate Weave (4338), Plush (4309), and Aqualake (2450) can be your ideal picks. If you are wondering where to use this colour in your house, then the answer is - anywhere. Shades of aquas are perfect for every room in your house. However, irrespective of which shade you choose, your furniture and accessories should be of the contrasting pinks, yellows, oranges, and darker tones of blues and reds.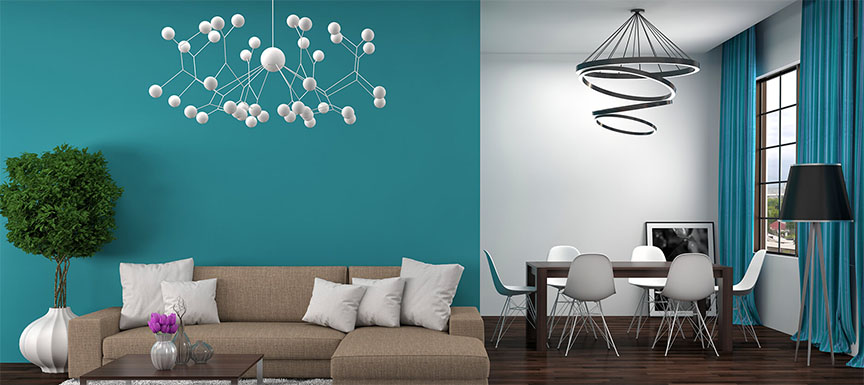 6. Intense Greys Lighter shades of grey dominated in 2018. It's now time for intense and deeper tones. Plain dark grey walls or the ones with artistic patterns will redefine elegance and sophistication. An accent wall and ceiling painted with Cornerstone (4471), Seashell Pink (4067) or Nearly White (2904) from the Masterpiece White collection will complete the opulent décor of your home. All that you have to do for a posh house is complement the décor with pastel-coloured upholstery or black furniture and lamps.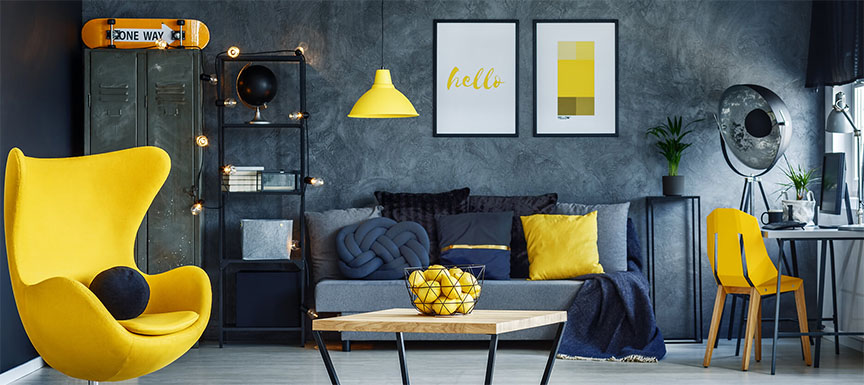 If you don't wish to paint your entire house with these dark shades, you can even opt for a striped pattern with alternate light-and-dark work. So what is your interior paint colour hot pick for this year? You can also stick to your favourite colour and create your own interior paint ideas. Give a missed call on 9223566181 to get the link to our personalized chat assistant and get details on our dealers who can help you out in your location. Happy painting!
Nerolac Paints, a leading paint company in India offers a wide range of paint colors & decorative wall painting solutions for homes & offices.
Get In Touch
Next Blog
Home Colour Schemes to Suit Your Personality
get our updates in your inbox!