Best Kitchen Colour Combinations
How can you miss out on your kitchen when you are planning to redesign your entire home with the best of home paint colours? Nobody wants their kitchen to bring down the beauty of their house with dull and outdated kitchen colours. So spice up your kitchen just like the rest of your house. And if you think that beige and white are the ideal kitchen paint colours, you are mistaken. Convert your kitchen into a masterpiece with our favourite kitchen colour combinations. 1. Minty Surprise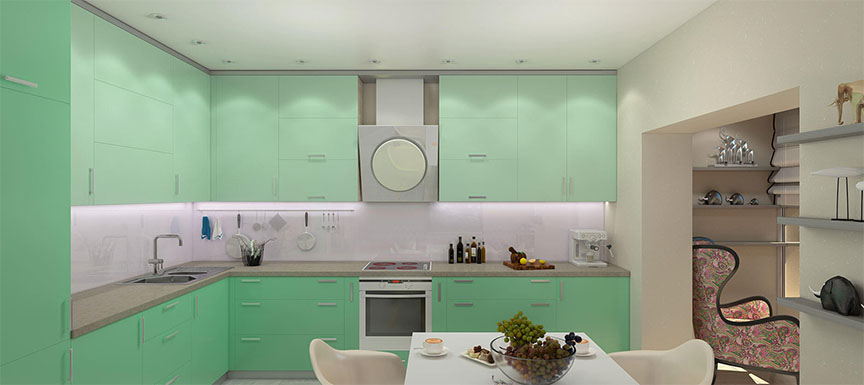 Bring in minty freshness to your kitchen. Create something light and airy with a mint green and white kitchen colour combination and enjoy the cooking experience. And if you have a small kitchen, you should definitely pick either Surf Green (2515) or Green Isle (4350) and pair it up with white accents. 2. Limon Punch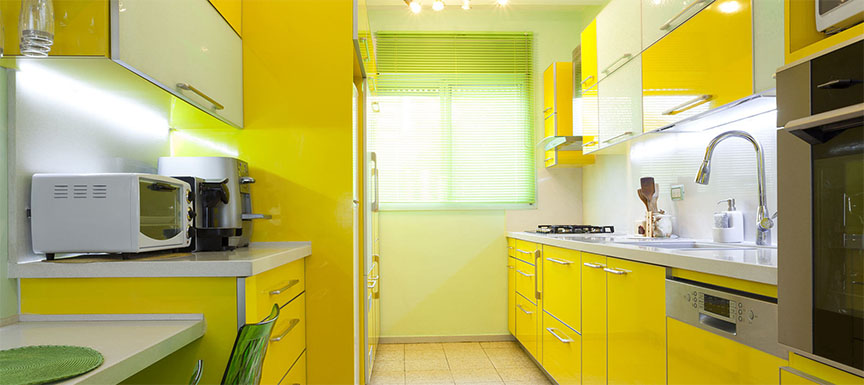 If you are adding quirk to the whole of your house, don't settle with clichéd kitchen colours. Add a dash of quirk by combining yellow and green for an amazing kitchen colour combination. These vibrant citrusy colours will keep you cheerful throughout and will never make your kitchen look gloomy, even with less light. These best kitchen paint colours prove that kitchens can be exciting too! 3. Rosy Affair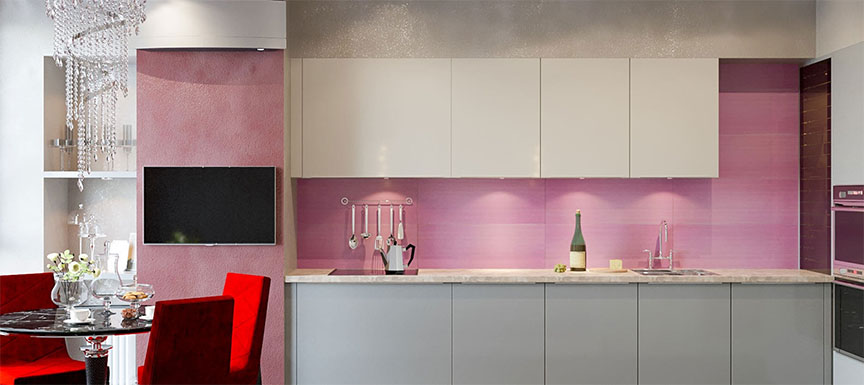 Looking for something pretty yet elegant for your kitchen? The pretty kitchen colour combination with muted pink and white is all you need in your kitchen. Pick a kitchen wall colour like Coralle Pink (4575) as backdrop with white accents. This kitchen colour will look timeless when you paint your kitchen strategically and combine it with sugary-white or off-white. Don't forget to keep the shelving and cabinet complementing with light grey or white hues. Don't think that this theme is meant for girlies. Even men can try their hand and turn their kitchen into something creative and interesting using pale red to deep pink kitchen colours. 4. Tangy Splash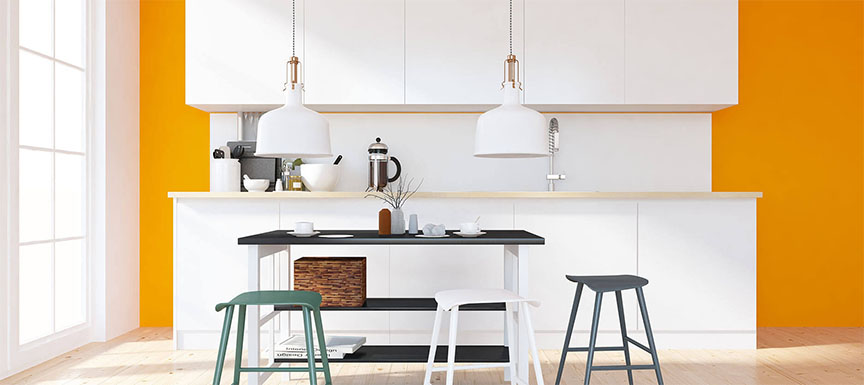 Lively orange is a hard-to-dislike colour. When it comes to kitchen colour design, making the best use of orange makes sense. The combination of orange with white, soft grey or yellow is one of the most fabulous kitchen colour ideas. If you think that orange is too much as a kitchen wall colour, limit it to the cabinets, shelves, and drop lamps. The backdrop can then be the other muted colour that you'll choose. 5. Curacao Freshness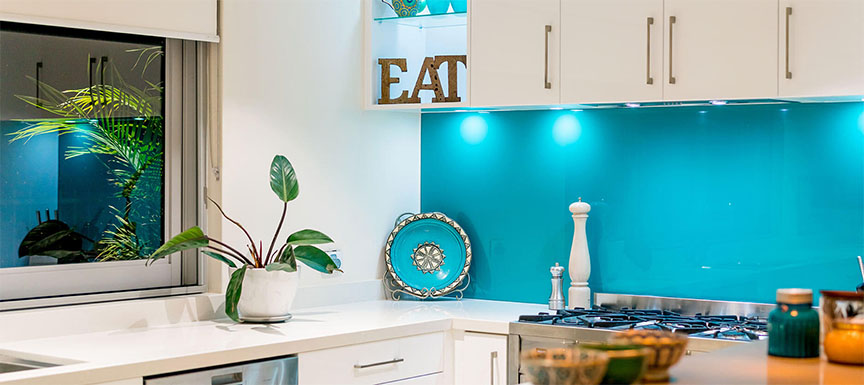 Remember the refreshing drink that makes its way to several celebrations? The blue curacao or blue lagoon is what we are talking about. Choose flattering kitchen wall colours in blue and add more of it to the table cloth, table mat, and kitchen lamps. And there's no perfect age to have this kitchen paint colour. Young or old, men or women - our Spa (4273) is the best kitchen paint colour for all kitchen owners. All you have to do is select the right contrasting colour, like off-white or smoke grey, for the perfect kitchen colour combination. This bright kitchen colour complements nearly any colour in the colour palette. 6. Currant Magic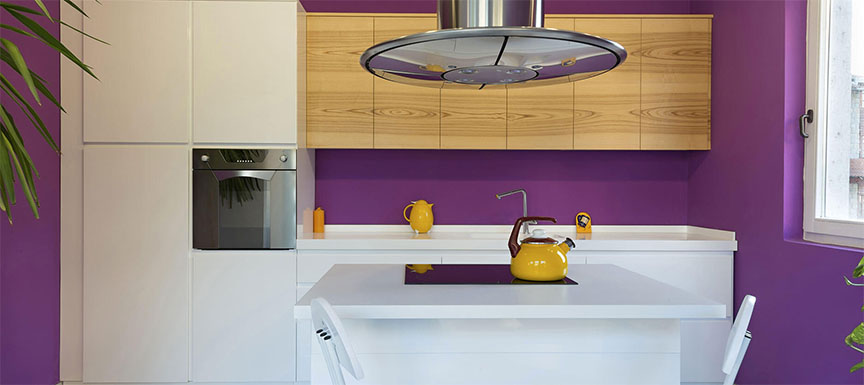 What's the first thing that comes to mind when you think about black currant or mulberries? Juicy? Elegant? Use the classic elegance to paint up your kitchen walls. Purple kitchen colour is meant for the outrageous, stylish, and experimental kitchen-masters. The kitchen colour combination of light and dark tones of purple is simply mesmerising. Other blends that are equally enchanting kitchen colour ideas are deep purples with any shade from our Masterpiece Whites range. 7. Cocoa Passion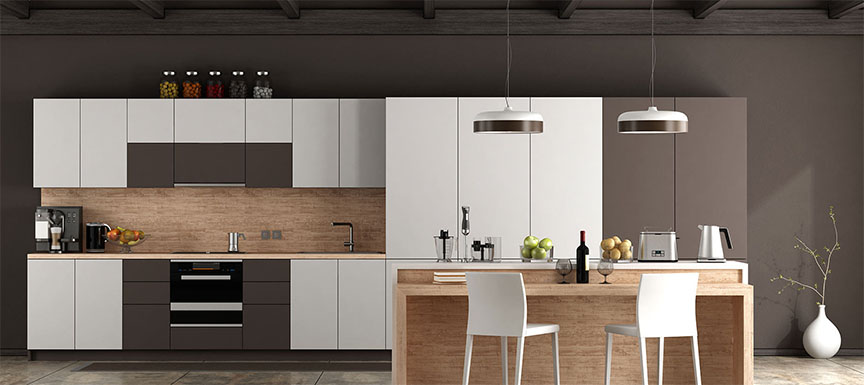 Want jaw-dropping kitchen ambience? A deep brown with beige or neutral golden-brown is the kitchen colour combination that you need to try. And why just these kitchen colours? You can also play around with different tones of brown for unique kitchen colour designs. Once you are done with kitchen paint colours, think about the other elements in your kitchen. Golden and wooden accessories add the right essence of richness to the entire ambience. There is no such thing as the right kitchen colour combinations. Depending on the theme of the rest of your house and your choice, you can mix and match practically any colour and create your own kitchen colour ideas. But if nothing strikes you, bookmark this guide and try out the ideas soon.
Nerolac Paints, a leading paint company in India offers a wide range of paint colors & decorative wall painting solutions for homes & offices.
Get In Touch
Next Blog
How to Paint a Wall Yourself with 10 Easy Steps
get our updates in your inbox!