6 Awesome Colours For Tiny Bedrooms
Just because you have small square footage available in your bedroom doesn't mean you have to settle for basic interior paint shades. We aren't saying that milky white and almost whites aren't a great choice for bedrooms. They still look stunning when contrasted with deep-coloured furnishing and bedding. But why always pick these colours when you have several other colours that can make your bedroom look spacious? These are just some out of the long list of interior paint colours ideal for tiny bedrooms. 1. Delicate Lavenders and Lilacs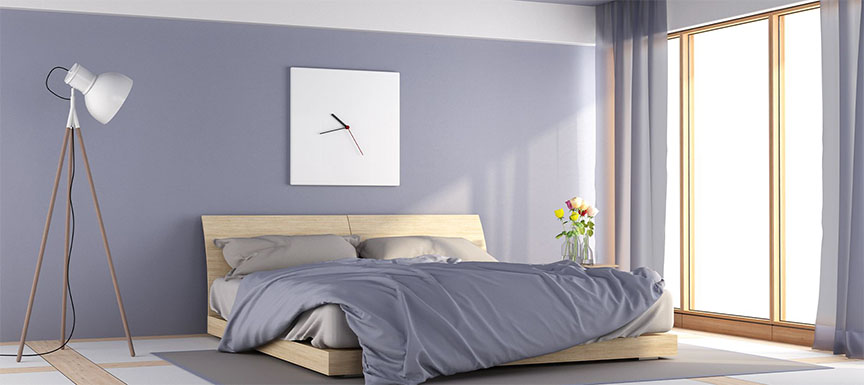 Purple is the colour for royalty, and its light shades are meant to make a room appear spacious. So if a small bedroom makes you feel low, paint your bedroom walls with pretty lavender and lilac shades of purple. After all, you deserve to feel like a king or queen, even in a small space. These light shades of purple interior paints also make your space look uncluttered while adding depth to the room. 2. Sunrise Reflection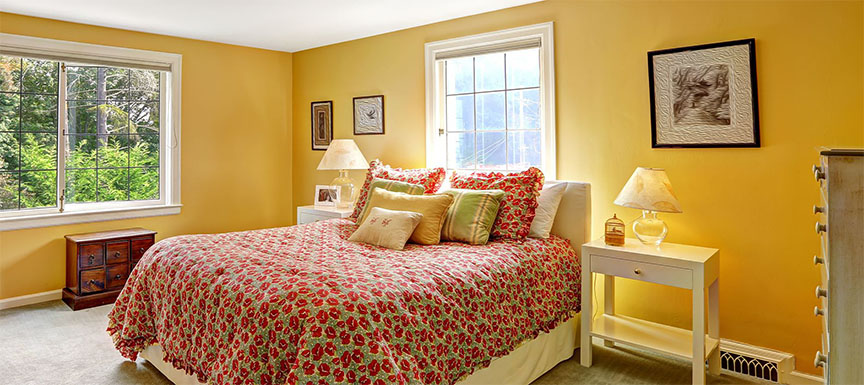 Yellow is a cheery colour, and it can liven up almost all kinds of bedroom styles. The colour reflects sunlight and mimics the look of a bigger bedroom. So select any shade of yellow for your bedroom to make it look bigger. If too much yellow is not your thing, you can add a dash of neutrals like interior paints from our Masterpiece Whites range on one of the walls. You can also colour the trims and skirtings white so that yellow has a well-defined neutral lining. Pick dark-coloured bedding and furnishings for this room to design a balanced bedroom. 3. Breezy Bliss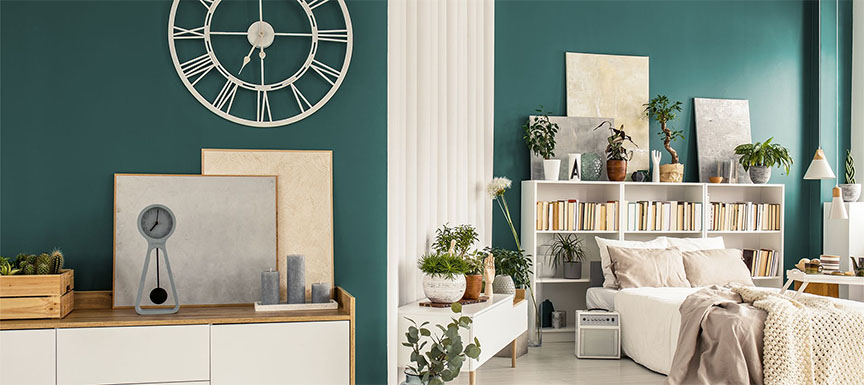 You might be tempted to use sugary-white interior paint colour for your small bedroom. But for an even dreamier feel, subtle tones of turquoise will work wonders. This beachy colour helps your space feel a bit more expansive. And not to forget, the turquoise shade of blue is a go-to colour for small spaces. So combine this refreshing interior paint colour with gingham-printed curtains and throws. You can either use dark-coloured bedding or crisp, light-coloured, the choice is yours. 4. Enchanting Forests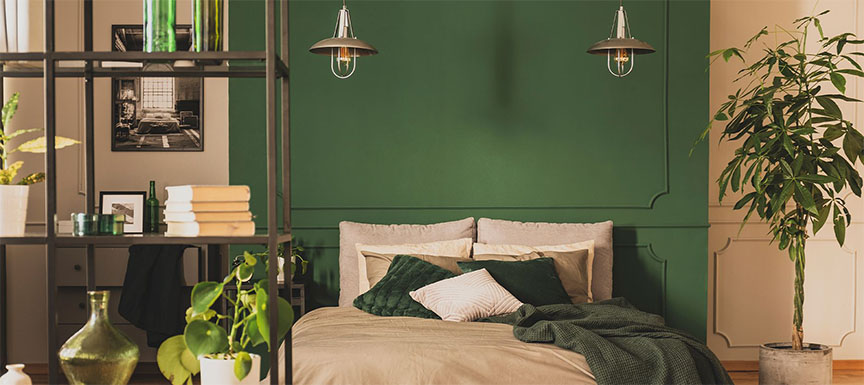 It never hurts to take interior paint colour cues from the beautiful outdoors, especially when it's inspired by the soothing lushness of forests and grasslands. Convert your tiny bedroom into a room of nature by picking deep-green for bedroom walls. If you think that dark colours aren't meant for smaller spaces, you are sadly mistaken. When used smartly and combined with contrasting elements, even dark hues can redefine the awesomeness of your space. So, punctuate a dark green shade like Serpentine (2538) with white or a lighter tone of green for a spacious-looking space. 5. Outrageous Choice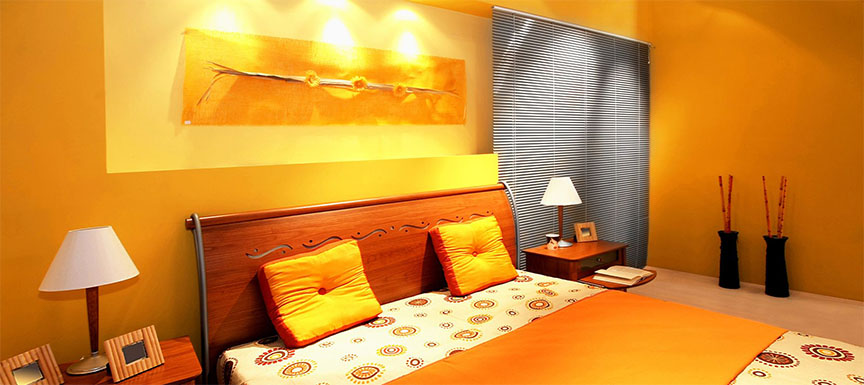 Again, don't be afraid of choosing bold interior paint colours for your small room. Orange is a stunning colour to use when combined with beiges and light tans. So let the bedroom walls be bright orange, and the bed and doors can be painted with the subtler colours. Don't forget to add lamps and tiny lights to brighten the bedroom. There's so much you can do with orange paint colour to give your small bedroom a facelift. 6. Mellow Peach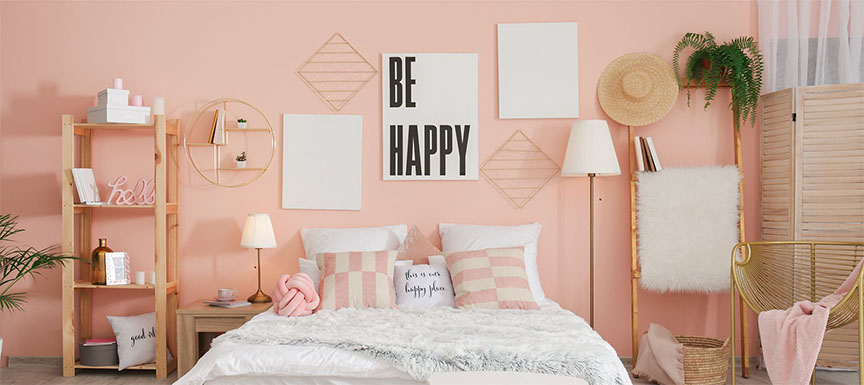 When you don't want to pick something too pale or too dark, pretty peach can be your perfect pick. A medium-faint shade of peach instantly adds warmth to a pint-sized bedroom. The mellow peachy shade gives life to a small bedroom without overpowering pink or orange in your space. Pair it with browns, greys and blacks to make sure it doesn't feel too frilly. The furnishings, upholstery, and other detailings in the room such as the ceiling beams can be of these dark colours. As we said, the list of ideal colours for tiny bedrooms is long. You'll have to talk to our specialised painters to know more of such colours and interesting ways to decorate your bedroom with them. There are endless possibilities to redefine the way your small space looks.
Nerolac Paints, a leading paint company in India offers a wide range of paint colors & decorative wall painting solutions for homes & offices.
Get In Touch
Previous Blog
Enter the New Year with Our Exclusive Pick of Home Paint Colours for 2020
Next Blog
6 Shades of Brown Paint to Beautify Your Home
get our updates in your inbox!