Wake Up to The Best Bedroom Colors of 2019
Choosing the right bedroom colours for your walls is as much of a science as it is an art. A recent study by Travelogue showed that people who slept in blue and green rooms slept longer than those who slept in rooms that had other bedroom paint colours. In the Indian context, Vastu experts unanimously agree that browns, blues, and pinks are the best bedroom colours. But how do you use these bedroom paint colours and keep up with the trends of 2019? Leave that to us! We bring you our top picks for the best shades and colour combos for bedrooms that are going to steal the show in 2019. 1. An Ocean of Blue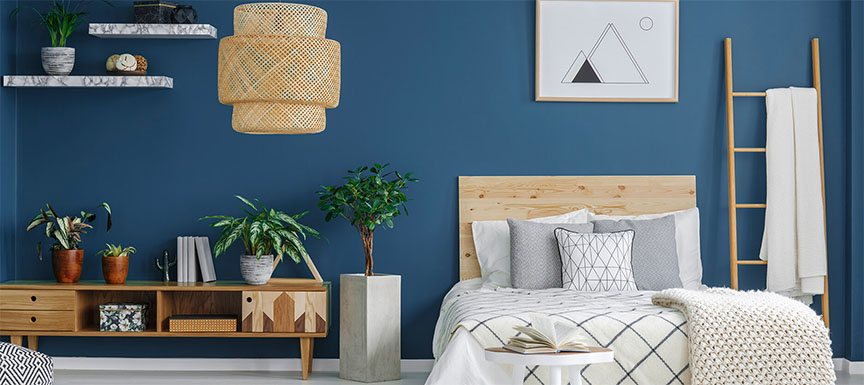 Blue is arguably the best bedroom paint colour, that can be used singularly or in combination with crisp whites, gentle grays, and touches of greens. You could couple darker shades of blue, like Nerolac's Silence (2426), with lighter shades of blue, like Nora's Niche (4303). Add a highlight of our Masterpiece Whites by painting a pillar, chair rails, or crown mouldings with Little Lullaby (1974). Get more ideas on how to use blue bedroom paint colours with our Tropical Paradise collection. 2. A Lungful of Green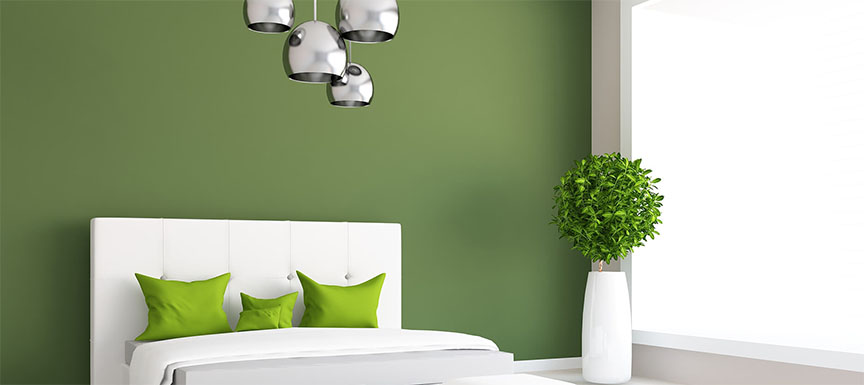 It is human nature to be most at ease when close to nature. Green bedrooms recreate that stress-relieving environment and allow us to be at peace, something that's very important to get a good night's sleep. However, don't make the mistake of painting the entire bedroom green! Pair it with whites, beiges, and grays for a spectacular effect. Nerolac's Water Gray (2928), which is a mossy green, along with Tawny Tan (2764), one of our bestselling Masterpiece Whites, is an excellent combination to enjoy a lungful of green. Look through our Secret Garden collection for more ideas on how to use green in your bedroom. 3. A Forest of Brown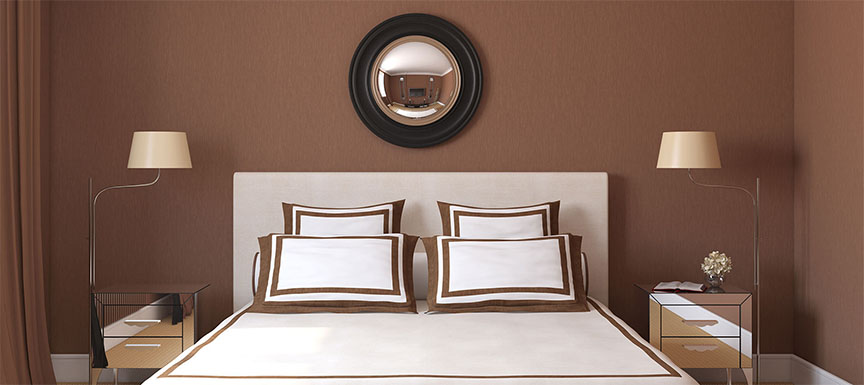 Natural textures of brown not only soothe us down but also bring elegance into our bedrooms. Browns even accentuate our room's décor and furnishings, both in natural sunlight and artificial yellow lights. Use a dark shade like Gravy Dip (4511) with a beige or white. Or pair an even darker brown like Chocolate Fondue (4512) with a dark maroon or red like Kokam Red (4108). Check out more possibilities with brown bedroom paint colours in our Modern Monochrome collection. 4. A Cheer of Pink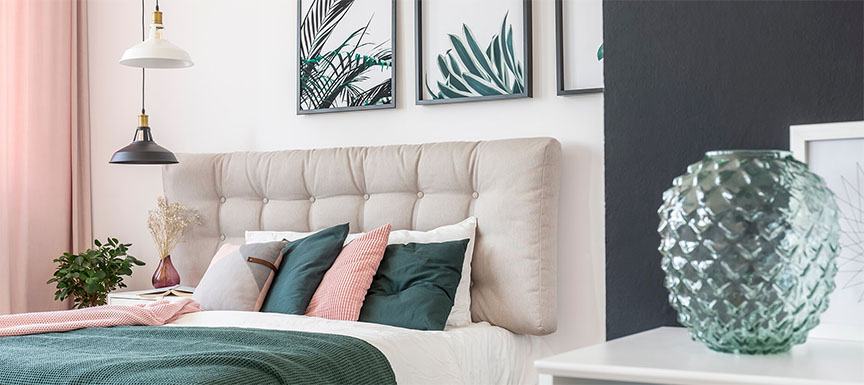 With Living Coral being selected as Pantone's Colour of the Year 2019, pinks are definitely the trendiest bedroom colours for the year ahead. Pink shouldn't just be an option for your little girl's bedroom; if used properly, it can totally perk up the look of your bedroom. Use with lighter colours like whites for a younger, fresher look. Or team it up with grays and browns for a more sophisticated look. Take a look at our Urban Sense collection for more ideas on how to use pink as a bedroom colour. 5. A Dollop of White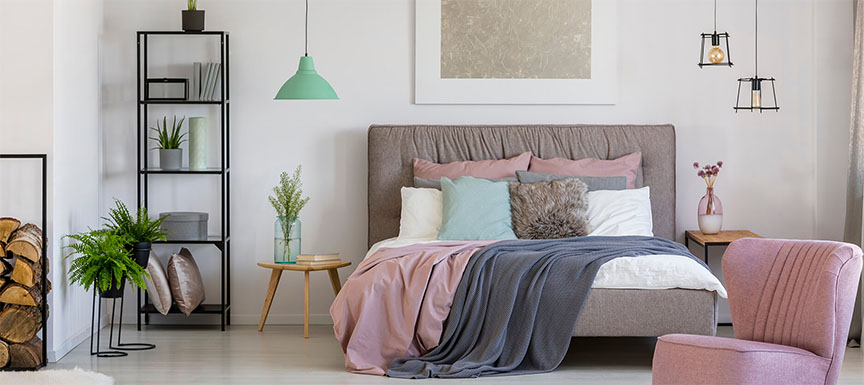 For some of us, nothing says elegance more than the colour white. If you like the pristineness of white, fret not. There's a lot you can do with whites. In fact, there are more shades of whites than you probably know. White bedrooms also allow you to play around with different coloured furniture, drapes, rugs, and upholstery. A white bedroom can also use an accent wall to bring a burst of colour to an otherwise monotone bedroom. See what you can do with whites in our Masterpiece Whites collection. 6. A Dash of Maroon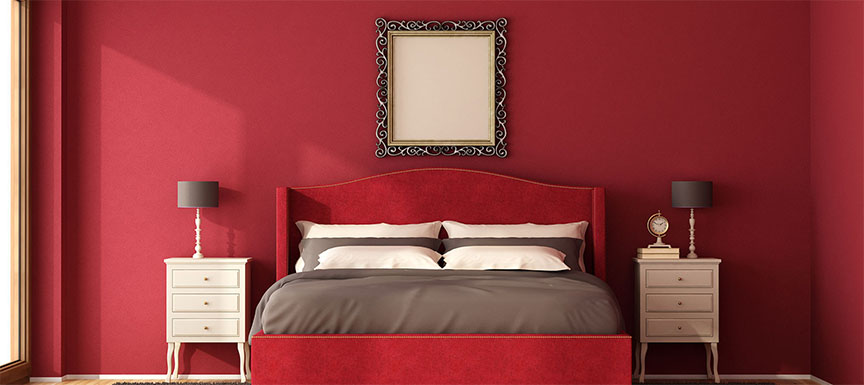 Although there are countless shades of red, Zaffran (4117) is the bedroom paint colour we love. High-energy yet calming, strong yet timeless, this jaw-dropping bedroom colour can be your fit if you are looking for something bold. This stunning tone acts as an ideal backdrop for velvet, suede, or leather upholstery in light or deep shades. When planning to decorate your bedroom with awesome elements, pick either all-whites or golden accessories and decoratives. 7. A Spoon of Violet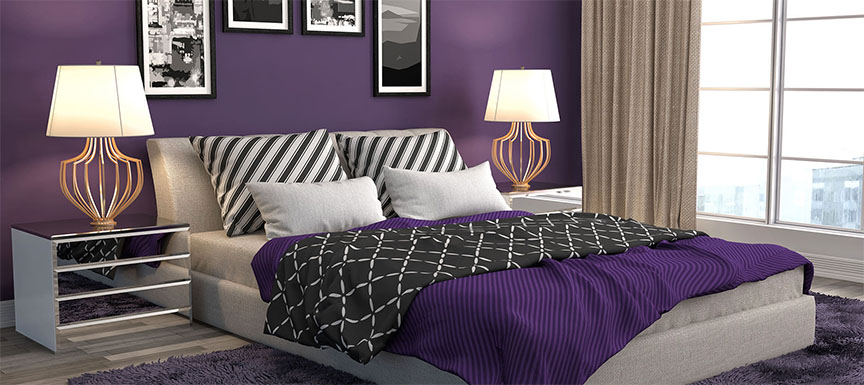 Want something that's not too overpowering but still adds opulence to your bedroom? A rich tone of violet is one of the best bedroom colours. Dress up the walls with a bedroom colour like Shadow Eclipse (4213) and then punctuate the depth with smoke grey accents and vibrant bedding for a balanced bedroom. If you like to keep your bedroom space muted, then a pastel violet hue like Lisa (2306) can be the perfect of bedroom wall colours. In this case, pick dark-toned bedding and upholstery for the right contrast. 8. A Palette of Yellow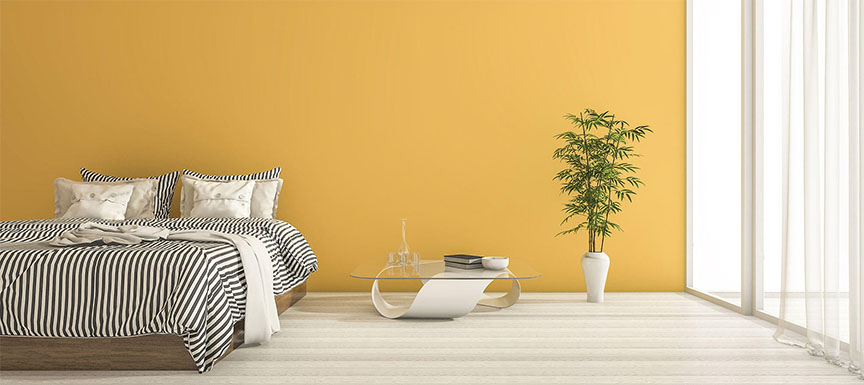 Shades of yellow are the timeless bedroom paint colours that never go wrong. All you need to do is select the best-fit shade of yellow as per your personality. There's no doubt that yellow represents cheer, so if you want to spread warmth and energy, this is the bedroom colour for you. And why just settle for plain walls? Try some artistic patterns like stripes, mesh, ombre, or crushed cotton with yellow and the right contrasting hue - something like green, white, or blue. 9. A Spark of Black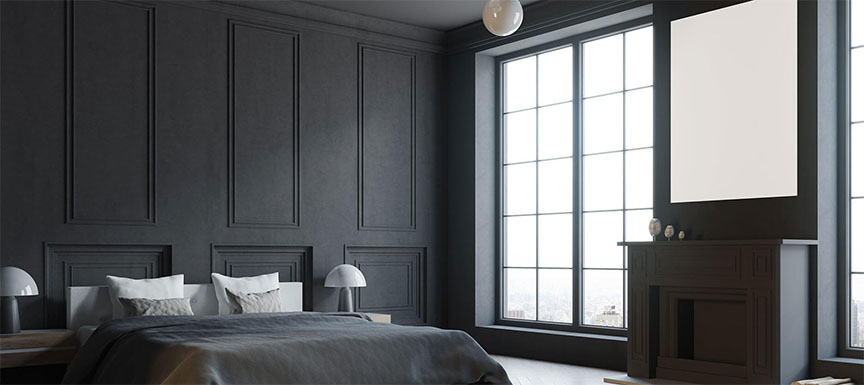 This one's for those who dare to be different! Imagine a room with a jet black bedroom wall colour, white ceiling and floor tiles, pale grey furniture, and black bedding. What an excellent monochrome sight! You can achieve this look without overdoing the colour. If not all four walls, you can even paint one of the walls with black and keep the contrast balanced with three grey or almost-white walls. 10. A Wave of Sea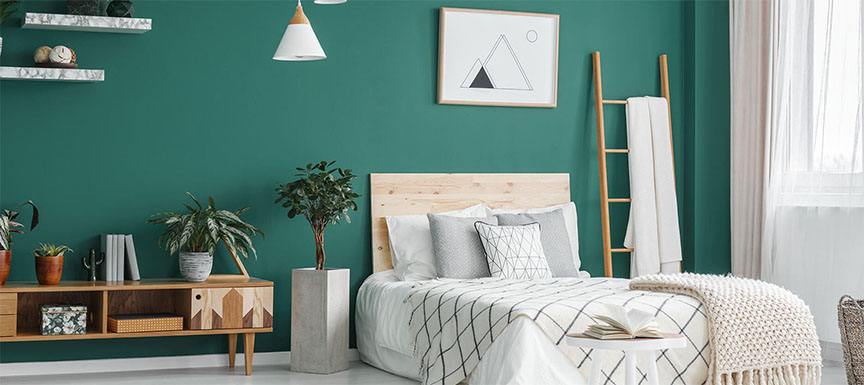 Let the wave of aquamarine tones wash your bedroom walls and leave them looking serene. An unusual tinge of sea green and turquoise is what we are talking about. China Jade (4352), Full Canopy (4360), and Emerald Forest (2524) are some of the countless bedroom colours inspired by the mighty shades of the seas and oceans. Bring the freshness of waters in your bedroom with these bedroom wall colours. Pair these walls with white detailing for a beautiful bedroom to wake up to every morning. Doors, door frames, windows, and skirtings, along with the flooring and ceiling should be pearly-white. 11. A Box of Pastels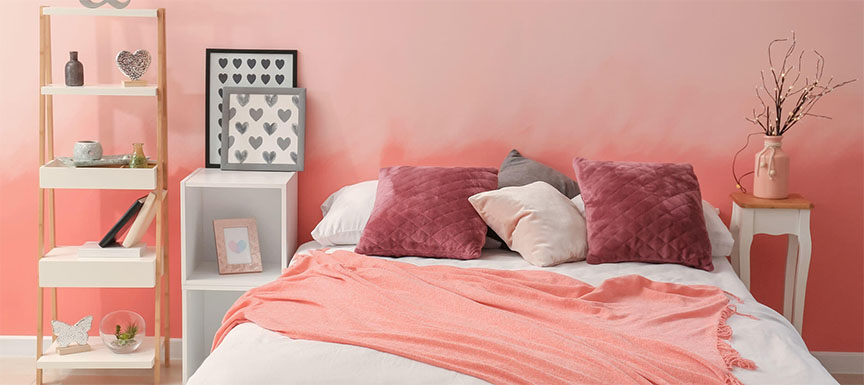 High gloss bedroom paints are a surefire way to wake up with a smile. But have you tried the alternative? Matte bedroom wall colours are so different that they are sure to leave you spellbound every time you enter your bedroom. And when it comes to matte bedroom colours, nothing can compete with pastels. These subtle and muted shades of almost any colour look fabulous. Pick the right pastel hue of your favourite colour and dress up the walls in them. The upside of pastel bedroom paint colours is that you can design your bedroom in countless ways while keeping the walls as the centrepiece. Our favourite pick is lace draperies, velvet cushions, furry rugs, and cotton bedding to double the swankiness of a pastel-ed bedroom. And if you have any other colour in mind, don't refrain. Paint your bedroom with your favourite hue so that you can wake up with a broad smile and spend your day cheerfully.
Nerolac Paints, a leading paint company in India offers a wide range of paint colors & decorative wall painting solutions for homes & offices.
Get In Touch
Next Blog
Reasons White Workspaces are the New in Thing
get our updates in your inbox!