EMISSIONS
GRI Standards
GRI 305: Emissions
Section/Comments
GRI 103-1
Management approach: Explanation of the material topic and its boundary

Material aspects & scope

GRI 103-2
Management approach: The management approach and its components
GRI 103-3
Management approach: Evaluation of the management approach
GRI 305-1
Direct (Scope 1) GHG emissions
5461 MT of CO2 eq
GRI 305-2
Energy indirect (Scope 2) GHG emissions
40228 MT of CO2 eq
GRI 305-3
Other indirect (Scope 3) GHG emissions
6242 MT of CO2 eq
GRI 305-4
GHG emissions intensity
0.17 (MT of emissions/MT of production)
GRI 305-5
Reduction of GHG emissions
Green House Gas emissions
GRI 305-6
Emissions of ozone-depleting substances (ODS)

Air emissions

GRI 305-7
Nitrogen oxides (NOX), sulfur oxides (SOX), and
other significant air emissions
Green House Gas (GHG) Emissions

KNPL has achieved reduction in GHG emissions over the last few years. Focused approach towards energy management in the Company has led to efficient energy usage and thereby reducing corresponding scope 1 & 2 GHG emissions. It has not only helped reduce environmental impacts, but also has aided in achieving cost-saving objectives.
Types of GHG Emissions accounted
Activities
Scope of Data
Scope 1 GHG Emissions: Direct GHG Emissions

Captive power generation from DG
HSD consumption in boilers

KNPL India operations
Scope 2 GHG Emissions: Indirect GHG Emissions
KNPL India operations
Scope 3 GHG Emissions: Other Indirect Emissions

Finished goods transport
Employee commuting
Business travel (Air travel)

KNPL India operations
Methodology Followed

The Company has been accounting GHG emissions through its customized GHG accounting tool, wherein various data such as fuel and electricity consumption, transportation, etc. is collated and further converted to CO2 emissions. Conversion factors used for GHG footprint calculation are taken from IPCC default emission factors, CEA (Central Electrical Authority) database, etc. The following table gives GHG emissions from KNPL India operations:
Financial Year
Scope 1
Scope 2
Scope 3
Total Emissions
(CO2 eq. in MT)
Emission (in MT)
per MT of Production
2012-13
10595
24599
5818
41012
0.21
2013-14
11033
29448
4124
44605
0.21
2014-15
8811
33998
5120
47929
0.21
2015-16
6886
36532
8752
52171
0.20
2016-17
6449
38273
9702
54423
0.20
2017-18
5461
40228
6242
51931
0.17
2018-19
4111
40672
6733
51516
0.16
Air Emission

Ambient air quality is monitored on a periodic basis at different locations for all manufacturing units of KNPL. Air quality monitoring exercise includes measurement of ambient air quality, stack emissions, VOC level at the shop floor, noise level, etc. at designated locations in our factories.
Air pollution control devices such as cyclones, scrubbers, etc. have been installed at stacks to filter the air emission before discharge into an ambient atmosphere. Pollutant load discharged through our factories is well within statutory limits. Dust collectors have been installed at the powder charging area to control emissions on shop floor and to enable reuse of collected powder.
To ensure adequate ventilation on the shop floor, our work areas are installed with a Forced Draft Ventilation system. A Fume Extractor System has been installed at the shop floor in critical areas to control VOC at the workplace. The Company has installed close loop processing to the extent possible, so as to avoid any air emissions into the atmosphere during the paint processing.
Emissions of Ozone-Depleting Substances (ODS)

Ozone-depleting substances, majorly R22, are in use at our old facilities. i.e. Jainpur, Bawal and the head office for work-area air conditioning. The Company uses R134a as a refrigerant gas at its Hosur and Lote manufacturing sites. R134a has zero ozone-depleting potential and is relatively cleaner than the conventional R22 refrigerant.
All new facilities are being installed with refrigeration systems based on refrigerant of zero ozone-depleting potential. ODS is relevant only with respect to air conditioning of our work areas. It is not a part of our product formulations.
Ambient Air Quality (in ug/m3)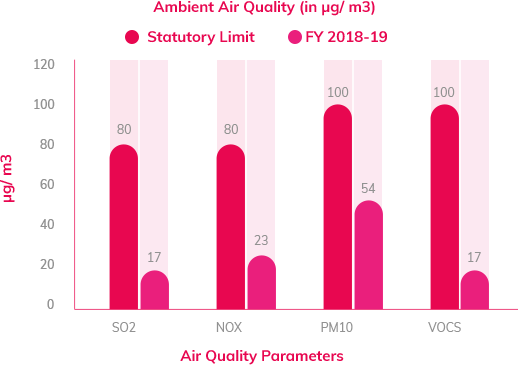 Air Quality Parameters
Biodiversity

All operational facilities are located in the State Industrial Development Corporation area. None of these sites are located near protected areas, areas of high biodiversity or ecologically-fragile areas. There are no significant adverse impacts on biodiversity because of KNPL activities.
All of our expansion projects have been undertaken after due Environmental Impact Assessment (EIA) and stakeholder consultation as applicable. There are no IUCN Red-listed species affected by any of KNPL's activities.
There have been no significant initiatives from KNPL for protection or restoration of any biodiversity-rich habitat. But our initiatives towards tree plantation have created a small manmade ecosystem which serves as a habitat for native fauna.