EMISSIONS
GRI Standards
GRI 305: Emissions
Section/Comments
GRI 103-1
Management approach: Explanation of the material topic and its boundary

Material aspects & scope

GRI 103-2
Management approach: The management approach and its components
GRI 103-3
Management approach: Evaluation of the management approach
GRI 305-1
Direct (Scope 1) GHG emissions
1087 MT of CO2 eq
GRI 305-2
Energy indirect (Scope 2) GHG emissions
31969 MT of CO2 eq
GRI 305-3
Other indirect (Scope 3) GHG emissions
8187 MT of CO2 eq
GRI 305-4
GHG emissions intensity
0.14 (MT of emissions/MT of production)
GRI 305-5
Reduction of GHG emissions
Green House Gas emissions
GRI 305-6
Emissions of ozone-depleting substances (ODS)

Air emissions

GRI 305-7
Nitrogen oxides (NOX), sulfur oxides (SOX), and
other significant air emissions
Green House Gas (GHG) Emissions

We have set challenging emission management goals to curb our carbon footprint through effective management of Green House Gases (GHG), Air and Ozone Depleting Substances (ODS) emissions. At KNPL, we are meeting the challenge of tackling climate change within our operational footprint through various initiatives, which have enabled us to reduce our GHG emissions.
Types of GHG Emissions accounted
Activities
Scope of Data
Scope 1 GHG Emissions: Direct GHG Emissions

Captive power generation from DG
Fuel consumption in company owned boilers
HSD consumption in boilers

KNPL India operations
Scope 2 GHG Emissions: Indirect GHG Emissions
KNPL India operations
Scope 3 GHG Emissions: Other Indirect Emissions

Product Transport
Raw Material Transport
Employee commuting
Business travel

KNPL India operations
Methodology Followed

The GHG emissions are estimated based on guidelines defined in the World Resource Institute's (WRI) Greenhouse Gas (GHG) Protocol and CEA (Central Electrical Authority) database. Relevant industry standard emission factors and emission factors prescribed by the Intergovernmental Panel on Climate Change (IPCC) have been used appropriately to determine GHG emissions.
Financial Year
Scope 1
Scope 2
Scope 3
Total Emissions
(CO2 eq. in MT)
Emission (in MT)
per MT of Production
2012-13
10595
24599
5818
41012
0.21
2013-14
11033
29448
4124
44605
0.21
2014-15
8811
33998
5120
47929
0.21
2015-16
6886
36532
8752
52171
0.20
2016-17
6449
38273
9702
54423
0.20
2017-18
5461
40228
6242
51931
0.17
2018-19
4111
40672
6733
51516
0.16
2019-20
1419
36721
9558
47698
0.16
2020-21
1087
31969
8187
41243
0.14
Decrease in Scope 1 emission is due to our transition from High Speed Diesel (HSD) to environment-friendly cleaner fuels in our process.
Increase in Scope 3 emission is on account of inclusion of Depot-to-Depot transport of products
Also, during the year, we included Sayakha Plant and R&D facility in our scope for GHG Accounting
GHG Emission Intensity
Method of Calculation: GHG Emission Intensity is ratio of Total GHG emissions to Total Production of Finished Goods during specified period.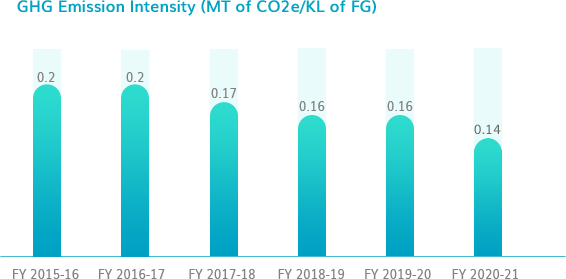 Air Emission

We regularly monitor volatile organic compounds (VOCs), particulate matter (PM10), NOx and SOx emissions in the air. All our manufacturing sites have requisite controls and measures in place to manage these emissions well within the permissible limits. We ensure compliance with limits prescribed in the National Ambient Air Quality Standards (NAAQS) 2009.
Emissions of Ozone-Depleting Substances (ODS)

At KNPL, R134a is majorly used as a refrigerant gas. R134a has zero ozone depleting potential and it is relatively cleaner than the conventional R22 refrigerant. Ozone depleting substance R22 is used at our old facilities i.e. Jainpur, Bawal and head office for work-area air conditioning.
Installation of refrigeration system based on refrigerant having zero ozone depleting potential at all new manufacturing facilities.
Ambient Air Quality (in ug/m3)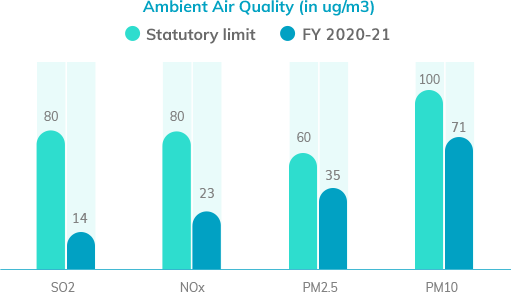 Air Quality Parameters
Leak detection and repair (LDAR) study
LDAR study is conducted to identify process equipment leaks for fugitive emissions of VOCs, and the leaks are repaired in a timely manner. In FY 2019-20, we conducted LDAR study for solvent line - pumps, valves, open-ended lines, flanges and connectors, to prevent solvent loss that impacts facility efficiencies and economics, the health and safety of workers, and the environment.
Biodiversity

Saying YES to "No Plastic":
We have identified areas with usage of plastic in our facilities and prepared a detailed plastic inventory delineating the thickness of plastic. We have ensured compliance as per State Governments' notification regarding ban on usage of plastics of less than 50 micron density across all locations.
Greenbelt Development:
We have a total of 40,045 trees across all locations within our factory premises, of which 5,350 trees were planted during the reporting period. The onset of the Company's 100th year was observed with a Green Celebration.
Environmental & Safety Expenditure:
A total of INR 16.9 Crores of capital expenditure was spent on EHS requirements at existing plants. This included procurement and upgradation of assets for environmental monitoring, effluent treatment, water conservation, energy efficiency, harnessing renewable energy, emergency preparedness and safety equipment.