How to Paint Wood? How to Paint Wood Furniture at Home with Images
Painting on wood has become a crucial requirement for many people these days. Many individuals rush to get the job done or look for shortcuts that will only provide poor outcomes.
With the presence of paint-ready areas such as primed casing and trim or drywall, the practice of applying interior wall paint or exterior wall paint on wood is transforming into a lost art.
It is not that difficult to become an expert in applying interior or exterior paint on wood, but it takes a bit of practice. You will learn how to paint wood like a pro with no hassle in just few hours.
Painting on Wood: How to Do It?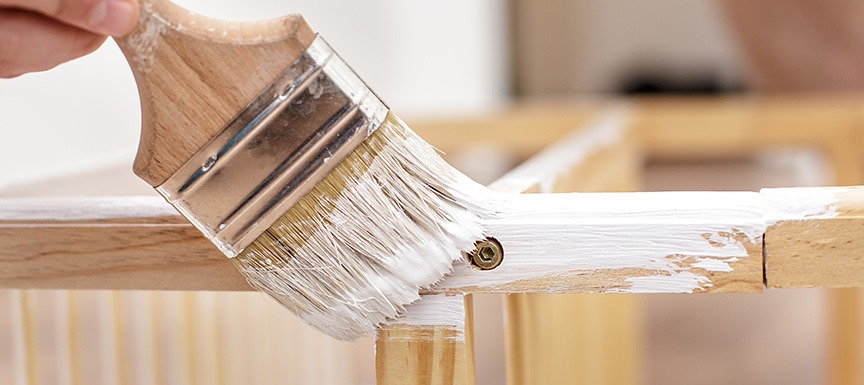 If you are wondering how to paint wooden furniture or surfaces, there are several steps, which you have to follow. These steps are:
Prepare the Wood for Painting:

Preparing the wooden furniture is a part that is overlooked. Preparing your wooden surface or object for applying wall paint is a crucial part of wood paint. The home paint will not fill in the holes, cracks, dents or any other type of imperfections available on the wood. It will also not hide these imperfections when the paint dries up and make it appear more apparent. That is why you should prepare the wood by covering up all these imperfections.

Remove Old Paint from the wood:

If the wooden furniture carries any old wall colour paint on its surface, make sure to get rid of it. You can use a scraper to eliminate the house paint from the surface of the wood.

Use Wood Putty to Fill All the Deep Gouges and Dings:

Take a putty knife and fill up all the places that require attention. It will be much better to use more filling so that all areas are filled properly. Wait for the filling to harden and dry before going to the next step.

Sanding the Wooden Surface with Sandpaper:

Once the filler or putty has dried and hardened up, you can sand down those areas with sandpaper and sand the other wooden surface areas. It will provide you with an even feel. Make sure to use 80 grits to 100 grits sandpaper to sand the wood.

Eliminate the Wood Residue or Dust:

Once the sanding work is completed, you can use a tack cloth and a vacuum to remove all the wood residue or dust. Finishing the cleaning work with a wet cloth and waiting for the wood to dry.

Prime up the Wooden Surface or Furniture:

The next step for how to paint a wood surface process is to prime the wooden furniture or flooring. Mix up the primer properly, and then apply it on the wood with a roller or brush. After it dries, if the primer appears to be transparent, apply another coat.

Sanding the Primer:

After the primer has dried completely, you can use sandpaper to sand it down before coating it with paint. You can use 220-grit sandpaper and apply light pressure to stop the primer from being extorted.

Paint the Wooden Surface with a Roller or Brush:

Now, it is time to paint. Therefore, you can use a paintbrush if you're painting wooden furniture. Otherwise, if you're wall painting on a wooden surface, such as flat and large areas, you can use a foam roller to get the job done.
Ending Note
Painting the wood is pretty easy, and all you need is a bit of practice. Make sure to paint the wooden surface or furniture properly to get your desired outcome. For best results when painting wood, hire a professional painter. Professional painters have years of experience and hence they will provide you expert advice and professional painting services for a great and long-lasting paint finish on wooden furniture.
FAQS
The first step of wood painting is to prepare the wood. This means you have to cover up all the cracks, holes and other things.
You can employ a vacuum to get rid of the dust and a clean cloth to clean the wood.
To prime the wooden surface or furniture, use a paintbrush or a roller to get it done.
You can use 180-grit to 100-grit sandpaper.
You can use a paintbrush to paint the wooden furniture and roller for flat surfaces.
Next Steps?
Want to know which colours will look good on your walls? Use Nerolac's Colour Palette and get colour combinations of your choice in seconds.
Looking for "paint shop near me"? With Nerolac Store Locator you can find a paint store nearest to your location in seconds!
Warm or cool, loud or subtle, fiery or earthy, whatever be your choice, we have what you want.
Nerolac Paints, a leading paint company in India offers a wide range of wall paint colours & painting services & solutions for homes & offices.
Get In Touch
get our updates in your inbox!