India is a blessed country with several different seasons. Different parts of the country experience winters, monsoons, and summers for a brief period. But one thing that is common between all the diverse places in the country is that homes in all these regions are largely affected by the changing weather. The good news is that you can protect your home exteriors from harsh weather conditions without taking much effort. Just take out time, invest in the right products, and your home will be prepared to take the worst form of rainfall, snowfall, temperature, and dirt. First things first, give your home exteriors a fresh coat of paint. Wall paint damage or blistering on walls appear due to the use of substandard paint. If you are wondering which paint to choose, say hello to Nerolac's exterior range of products.
20X Protection from Rain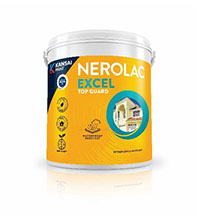 Nerolac Excel Top Guard, Top Coat & Base Coat solution is ideal for you if you live in places that receive a lot of rainfall. This waterproof paint provides 20X rain protection and its crack-bridging ability makes it ideal for places with extreme weather variations. It comes with a 10-year performance and waterproofing warranty.
Heat Guard Technology
Excel Total and Excel Mica Marble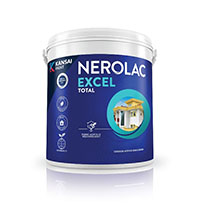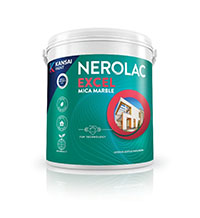 Excellent water repellency, dirt repellency, and durability make these paints perfect exterior paints. The Heat Guard Technology keeps the home up to 5° cooler, which means these paints are ideal for warm places as well. Excel Total comes with a 7-year performance warranty and Excel Mica Marble comes with a 6 year performance warranty.
Dust-free Exterior Walls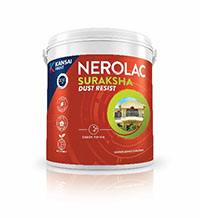 Dust Resistant paint designed for homes in dry or moderately humid climatic conditions. The resistance to dirt and dust makes it ideal for all kinds of homes across the country especially households in cramped up neighborhoods. Its dust resistant property not only keeps your exterior walls clean but also imparts them a rich sheen. It comes with a 3-year performance warranty.
Protect Those Tiles Up There
Although you may only think of your home walls when it comes to protecting home exteriors from harsh weather, other elements of your home exteriors shouldn't be neglected. If your home exterior has bricks and tiles, you need to take utmost care of them, as microbial growth and extreme weather conditions can wreck their quality. Protect bricks and tiles outside your house with a weather protection paint like Nerolac Excel Tile Guard. This water-based emulsion is made of 100% acrylic resin and is miraculous when it comes to protecting tiles and bricks from extreme heat, humidity, and rainfall.
Your home will thank you for protecting it with the right exterior paint and making the required renovations whenever the season will get a bit violent. After all, the home you live in should be your "safe space," and it is your responsibility to keep it ready for the worst of the situation outside.
Next Steps?
Want to know which colours will look good on your walls? Use Nerolac's Colour Palette and get colour combinations of your choice in seconds.
Looking for "paint shop near me"? With Nerolac Store Locator you can find a paint store nearest to your location in seconds!
Warm or cool, loud or subtle, fiery or earthy, whatever be your choice, we have what you want.
Nerolac Paints, a leading paint company in India offers a wide range of wall paint colours & painting services & solutions for homes & offices.
Get In Touch
get our updates in your inbox!