Two Colour Combination Ideas for Awesome Living Room Decor
Most modern living rooms follow the standard combination of white and brown or canary yellow, or at the most, blues and greens with their complementing colours. If you want to be different without losing out on style, experiment with some other living room paint combination. We have hand-picked the four most fascinating living room colour schemes that you can incorporate in your space without going wrong! Pink Pearl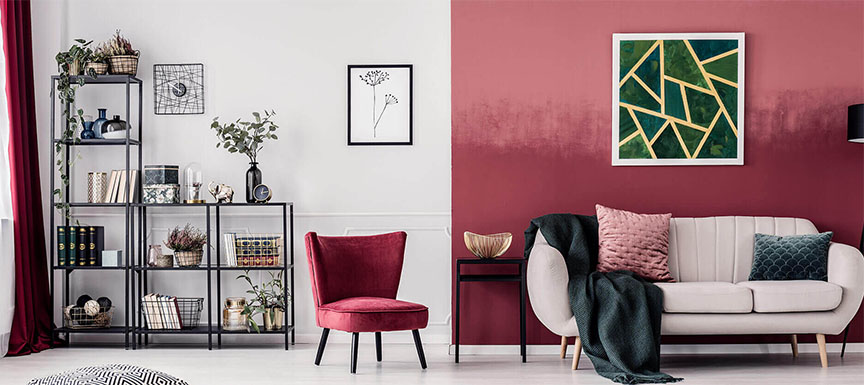 Any shade of precious pink, when paired with sugar-white, looks marvellous. So, opt for an impactful candy-like ambience with the best colour combination for living rooms. Pick a classic hue like Coralle Pink (4575) and colour three walls with it. The fourth wall can be white for a perfect wall colour combination for the living room. Even though some muted pinks might remind you of your grandmother's bathroom from the 1950s, when paired with the right contrast and accessories, it becomes gorgeously current. Pair with furniture and accessories in a darker colour, which will serve to balance the lighter tones, something like chocolate-coloured wooden elements. But if you want an even subtler living room setting, go for white plush couches, lamps, and velvety throws. Dash of Life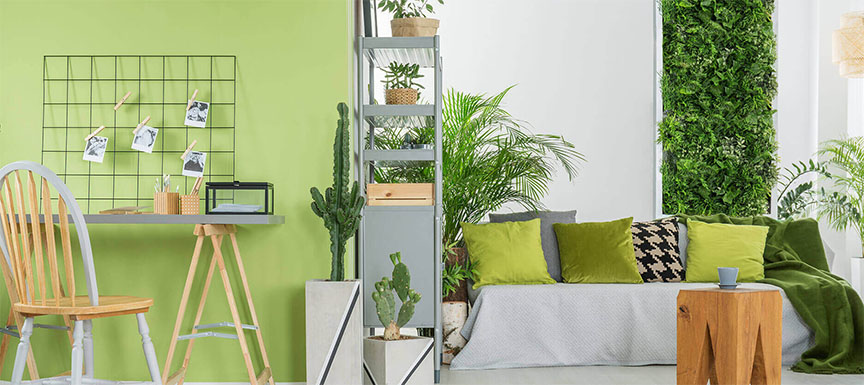 Have you ever noticed how being surrounded by trees in a park calms you? Well, while you can't take your living room to the park, you can bring plants inside your living room to feel great. Moreover, you can pick green home paint colours to double the energy and freshness in your space. Shades of green have the unusual quality of making a room feel cosy and enveloping in winter but cool and shady in summer. And for a better soothing experience for your senses, go for a two-colour combination for living room using pure whites. The colour spectrum for green is so broad. Whether you pick an unusual shade like Sherwood Forest (2551) or a typical bright tinge like Lavish Lime (4397), when combined with a dash of snow-whites, your living room will most certainly make the entire environment lively. Crimson Power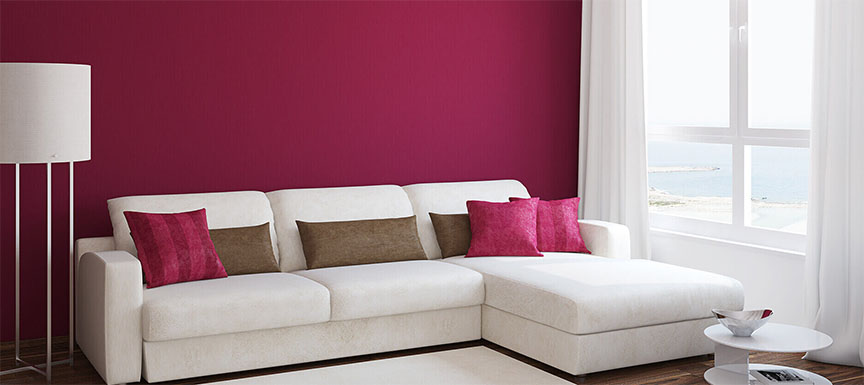 Warm up your living room with the deep tones of crimson. This alluring colour that is a mixture of subtleness of pink and passion of red pairs up amazingly with whites and the palest shades of grey. Use this perfect inspiration to enliven your living room space without going overboard. And you don't necessarily have to have white for colour combination for living room. Go light and dark at the same time by picking shades of crimson for different walls of your living room. Opt for a lighter shade for the area above the wainscoting, darker one for wainscoting, and pure white for the moulding that borders. If it's luxury that you want, the best way to create the look is to add a touch of off-white or pale grey and elements of silver to the living room decor. Cooling Royals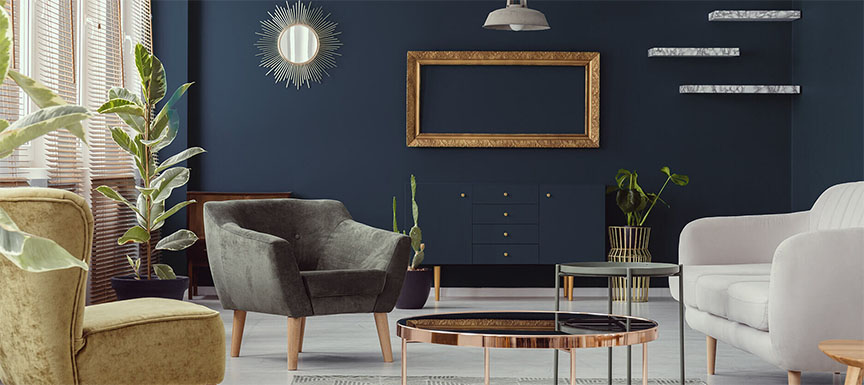 Add drama to your room while still being grounded with pure whites. Achieving this colour combination for living room is easy. Pick a deep royal shade like Debonair (2371) or Mali Opal (4242) for the accent or main walls of your living room. Other living room walls can be painted with sugar-whites. Likewise, pick pure white furniture and upholstery for a complementary look. Hang light and white lace draperies and place white fairy lights to make your living room a stunning place to be. And if you have white marble or tile flooring, the charm will be doubled and you'll love every bit of this two colour combination for living room. Pick a vibrant shade that adds personality and character to your living room in daylight and snuggly warm cosiness at night. Venture to the dark side if you prefer your living room to resonate with your personality. Or if your taste lies in being minimal, go for those countless muted colour combinations for living rooms in our Masterpiece Whites. Irrespective of what wall colour combination for living rooms you choose, don't forget to accessorise and decorate the space with the right complementing elements.
Nerolac Paints, a leading paint company in India offers a wide range of paint colors & decorative wall painting solutions for homes & offices.
Get In Touch
Previous Blog
Two Colour Combination Ideas for Awesome Bedroom Decor
get our updates in your inbox!