Mere color, unspoiled by meaning, and unallied with definite form, can speak to the soul in a thousand different ways". ~Oscar Wilde. When adorning the walls of your home, paint colors can speak volumes to an onlooker about a homeowner's personality and likings. Selecting the right home paint color scheme is vital to creating a relatable and personal atmosphere in your home. However, fashioning a well-coordinated color scheme, that binds the furnishings and home décor together creating the desired appearance, is a challenge for even the most seasoned interior décor enthusiasts. Although, this task can be made easy, with just enough understanding of paint colors, to ensure you select the right home colours for an eye-catching interior décor. Here are a few tips on choosing the right paint colors for your home,
1) Understanding the Color Wheel –
A color wheel is a handy tool, used by the likes of grandmasters when painting a masterpiece. This easy to use paint selection tool, with strategically placed colors is the best way to select a fail-proof colour scheme. By understanding the relationship between the primary and secondary colors placed strategically on the color wheel, one can create an eye-catching colors scheme that just can't go wrong. For instance, a complementary color scheme, created from colors opposite each other on the color wheel, accentuate each other, creating drama and depth. On the other hand, a monochromatic color scheme, which consists shades of the same color, will give you a subtle and elegant look. Similarly, one can create numerous colour schemes, consisting of two or more colors using the easy to use color wheel.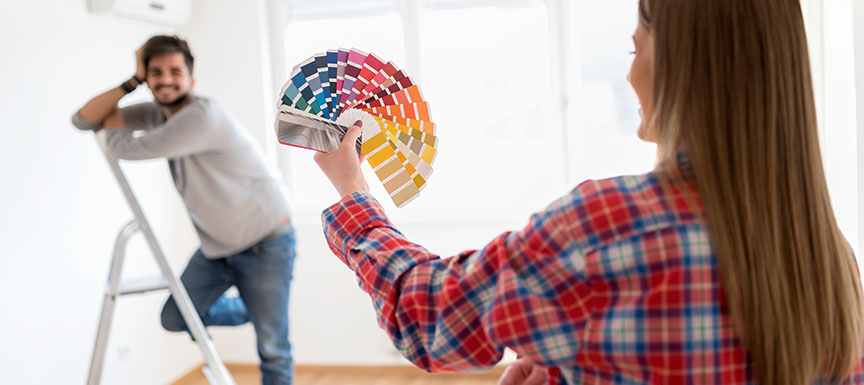 2) Using the Illusion of Color –
Always wished for a larger living room? Look no further, paint colours can help you attain the perception of width without having to knock down walls. The right paint color can help alter the appearance of a room, making a smaller room appear larger or a larger room appear warm and welcoming. This illusion of depth, width and height can be attained by the correct placement of warm and cool colors in a room. For instance, cool colors such as blues or greens can make a room appear larger and airy. On the other hand, warm colors like red and orange can make a room look cosy and vibrant. Thus, picking the correct colours to create deceptive effects can challenge the perception of space.
3) Consider the Effects of Color –
Experts believe that wall paint colors have the ability to alter the mood and personality of the occupants, this is also known as color psychology. Thus, by using the right paint colors in the precise location, you can create the much-needed ambience, for instance, serenity in a prayer room or vibrancy in a living area. Wall paint colors can help set the mood and atmosphere of a room, thus, understanding the correct utility of a room and choosing a corresponding colour can exemplify the usefulness and ambience of the space.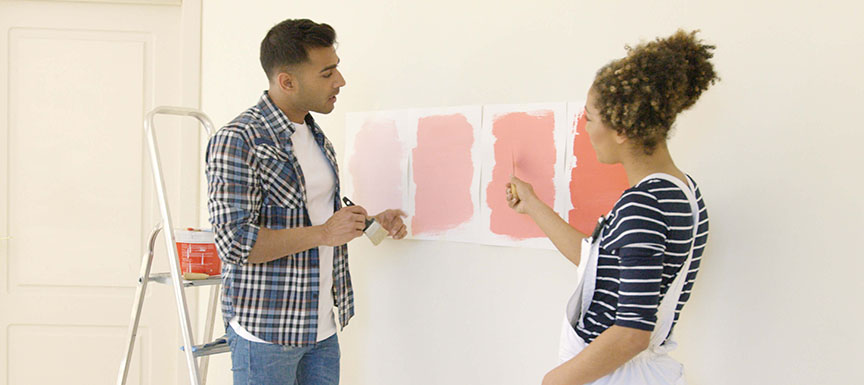 4) Picking Color From an Inspiration –
A simple yet effective way of picking paint colors is directly from an inspiration that may be a painting, upholstery, or even a family heirloom. You can also use your own favourite color as a base color, creating a color scheme around it to ensure a personalised touch to your much-adorned home. Don't lose heart if the color you pick is too bright or vibrant for painting entire walls, it can still be introduced into the room as a sparingly used accent color. A touch of your favourite color can be all that your home needs to make it feel personal and appealing.
5) Maintaining a flow –
When choosing paints for a home, considering the flow of the color scheme is vital for an eye-catching effect. Although this does not mean painting the same shades in each room, you should try to maintain a flow that binds each room together, either through accent colors, upholstery or décor elements. There are hundreds of paint colors available for selection, in shade cards and brochures that can be referenced at your local paint store or online. You can also use the virtual colour selecting tools available online to get an idea of how your chosen colour scheme will look before finalizing the same. Selecting the right
home colors
can transform the look and feel of your home. In case, however, the selection of house paint colors may get overwhelming for you, choosing to hire paint experts to help create an impeccable home paint color scheme is always an easily accessible option.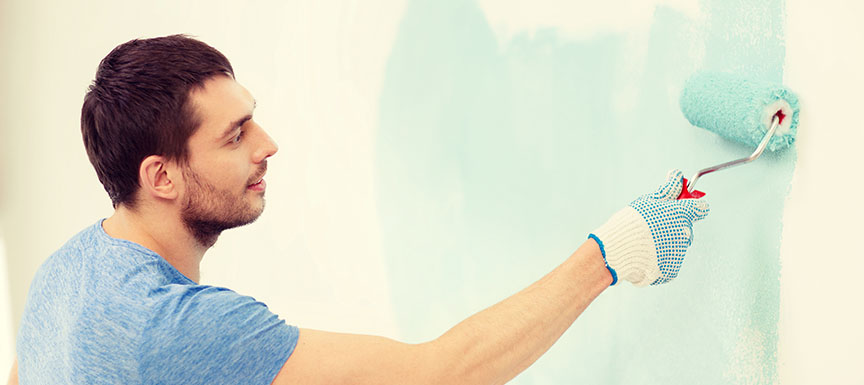 Next Steps?
Want to know which colours will look good on your walls? Use Nerolac's Colour Palette and get colour combinations of your choice in seconds.
Looking for "paint shop near me"? With Nerolac Store Locator you can find a paint store nearest to your location in seconds!
Warm or cool, loud or subtle, fiery or earthy, whatever be your choice, we have what you want.
Nerolac Paints, a leading paint company in India offers a wide range of wall paint colours & painting services & solutions for homes & offices.
Get In Touch
get our updates in your inbox!