Fads fade and classics stay; and grey paint colours are classics that won't go out of trend anytime soon. But not everybody's comfortable with opting for a grey house painting colour, especially the dark shades, in their home interiors or even on the exterior. If you, too, tend to shy away from choosing this house painting colour because you're not sure how to use it right, we have a few grey paint colour tips for you.
Tinges (not shades) of Grey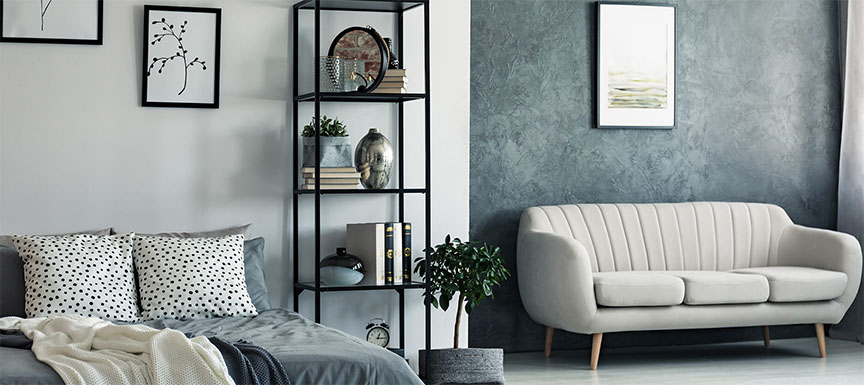 Yes, there are numerous shades of grey. But there also exists something known as tinges of grey. These are nothing but bluish grey, greenish grey, yellowish grey, brownish grey, and pinkish grey. You can experiment with slightly different tinges of grey with undertones of different colours in them. Pick dark paint colours like Amazon (2972), Savannah Green (4571), or Plum Pie (2321) for your bedrooms and other interiors of your house. To make your home appear spacious and neat, lighter house painting colours like Balance (4554), Chameleon (2599), and Amherst Fog (2319) are perfect fits. Choose these for your living rooms, bedrooms, kitchen, or even home exteriors; get as creative as you can!
Sophisticated Home Exteriors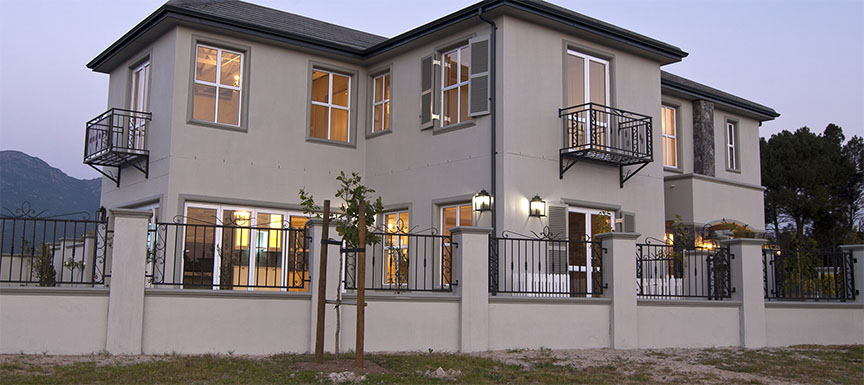 Beige and off-white house painting colours for exteriors are too common. Add a dash of sophistication to your home exteriors. Choose from endless house painting ideas that you can play around with using different shades and tinges of grey. You only have a few hundred grey options! Depending on which tinge and shade of grey you choose for your home's exterior, other elements can be painted in complementing colours from our colour palette. Let's say you choose a rich charcoal grey paint colour like Inner Depth (2966), the window and door frames, balconies, and siding can be painted in white or off-white. And why just whites, you can also pick other vibrant colours like yellows, greens, blues, and pinks, that go well with grey house painting. These colours also create an amazing contrast with lighter tones of grey.
Unusual Combinations with Grey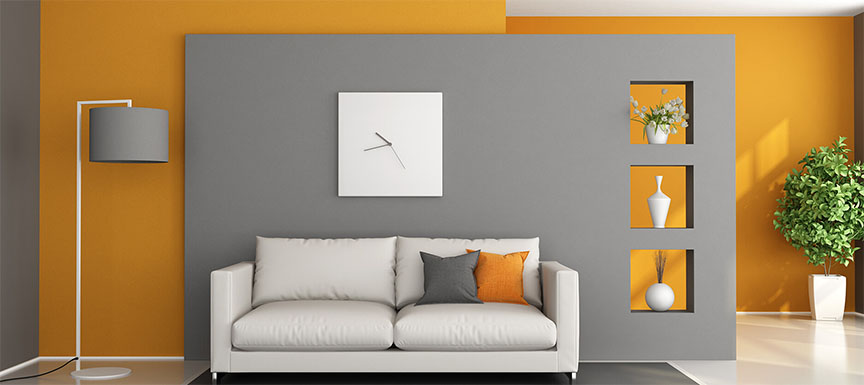 You thought you could pick only blacks and whites to balance out greys inside your house? That is a misconception! Grey is a highly versatile colour - the colour that creates perfectly looking combinations with different colours, whether warm tones or cool tinges. As we just mentioned above, you can pick other home paint colours to create a fascinating combination for your living room and bedroom. The easiest way to do this is to make your favourite pick from our
colour palette
, and paint an accent wall in your living room or bedroom with it.
Stylish Grey Patterns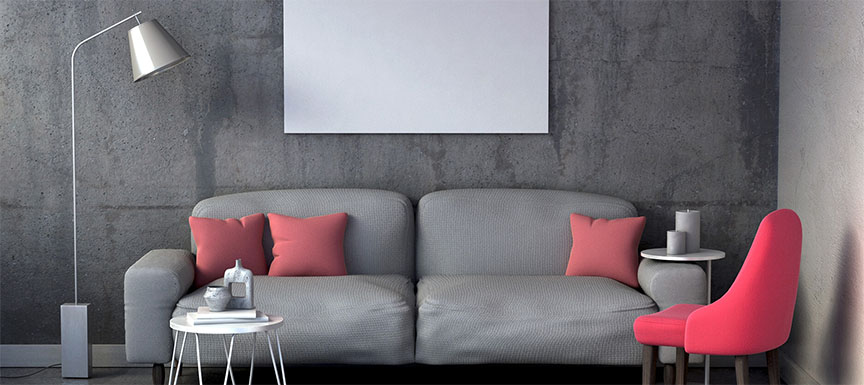 If you think solid grey is boring, play with patterns. Spice up the space and experiment with something stylish. Pick a wall in your living room or bedroom and convert it into a fancy accent wall. DIY patterns like
velvet
,
mesh
,
soothing sand
,
denim look
, and
crushed cotton
are not only easy to do but also look amazing if you choose the right combination of dark and pale shades of grey together. Grey is sophisticated, grey is classic, grey is spellbinding. So use shades and tinges of grey paint colours in the best way possible and make your home a masterpiece of its own.
Next Steps?
Want to know which colours will look good on your walls? Use Nerolac's Colour Palette and get colour combinations of your choice in seconds.
Looking for "paint shop near me"? With Nerolac Store Locator you can find a paint store nearest to your location in seconds!
Warm or cool, loud or subtle, fiery or earthy, whatever be your choice, we have what you want.
Nerolac Paints, a leading paint company in India offers a wide range of wall paint colours & painting services & solutions for homes & offices.
Get In Touch
get our updates in your inbox!