Rich-looking, insta-worthy homes are made all about choosing the right wall paint colours, decorating with unusual elements, and keeping them clean. But when you move away from plain walls and try various wall painting design patterns and styles, the beauty of your home is doubled. This piece will share some easy yet artistic ways to give your home a dash of richness and style.
Throw in Some Textures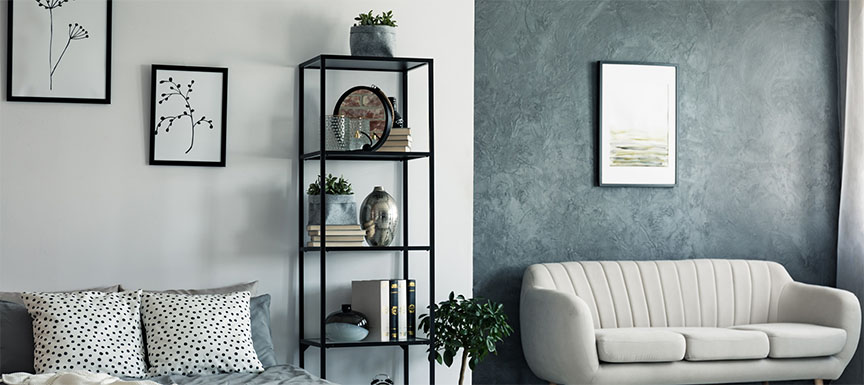 Four plain walls are the style of 2020! It's now time to add at least one wall that screams style. The world is full of amazing
wall painting design patterns
and textures that you can do on your own or hire master painters for. Textured walls add depth to your rooms that most simple walls cannot. The shapes, variations of colours, and illusions created with textures are enough to spice up your entire room. If you look at our DIY videos, you'll see that you can create artistic patterns using simple tools like a comb, string, sponge, and plastic bag. So choose your style soon.
Do the Stencil-Work
While textures require precision, stencil work is an easier way to play with plain walls and add some design. You'll find countless stencils in the market available in various sizes and designs. All you have to do is place them accurately on a painted wall and dab in some colour. Remove the stencil only when the paint is semi-dry and see how lovely your walls will look. If you don't find a nice stencil in the market, you can create one of your own on a thick plastic sheet. The sky's the limit when it comes to dressing up your home walls with stencil wall painting designs.
Try the Stripes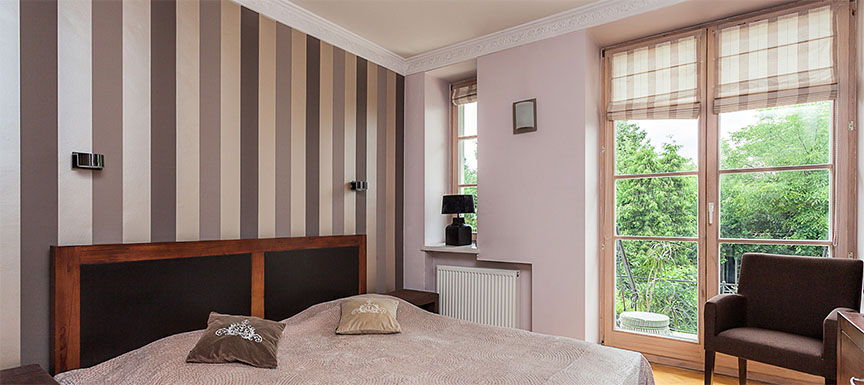 Stack two or more straight lines, and you have the most artistic wall painting designs for halls, bedrooms, and balconies. Strippy walls are clean, easy on the eyes, and infinitely variable. Perhaps that's why the most common patterns used to decorate interior walls are stripes in all their glorious variations. They can be horizontal, vertical, one stripe, lots of stripes, jagged stripes, colourful stripes. Choose your pattern, choose your colours, and add just-the-right impact on your home walls.
Go Duo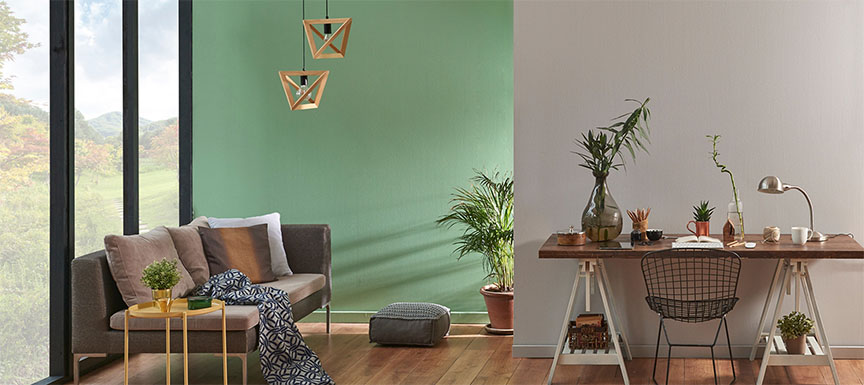 Don't wish to experiment with wall paint design patterns and textures? Simply add more colours to space! This idea is simple, but you need the right sense of colours to bring beauty to your rooms. Look at the latest wall painting design online or pick your favourite colours and follow the dual-tone colour scheme for your bedrooms and living room. Create a perfect balance of dark and light in your rooms so they don't look overwhelmingly muted or overpowered by colours. Want more
wall painting design ideas
for your home? Talk to our master painters, and they will share countless possibilities to switch to a richer look for your home.
Next Steps?
Want to know which colours will look good on your walls? Use Nerolac's Colour Palette and get colour combinations of your choice in seconds.
Looking for "paint shop near me"? With Nerolac Store Locator you can find a paint store nearest to your location in seconds!
Warm or cool, loud or subtle, fiery or earthy, whatever be your choice, we have what you want.
Nerolac Paints, a leading paint company in India offers a wide range of wall paint colours & painting services & solutions for homes & offices.
Get In Touch
get our updates in your inbox!