Waterproofing Wood - Learn Steps to Make Wood Waterproof
Easy Steps for Wood Waterproofing
Making everything waterproof is a fundamental requirement for construction and other materials, especially wood. Even though wood is a sturdy material, it can deteriorate very quickly when exposed to water. This issue can be excruciatingly troublesome, so it is recommended to waterproof wood.
We've got you covered if you are struggling to find the answer to making wood waterproof. Through this article, you will learn the easy steps to waterproof wood. Further, you will also learn about the benefits of waterproofing wood. Let's get started.
The Need for Waterproofing Wood: What Protection Can You Get?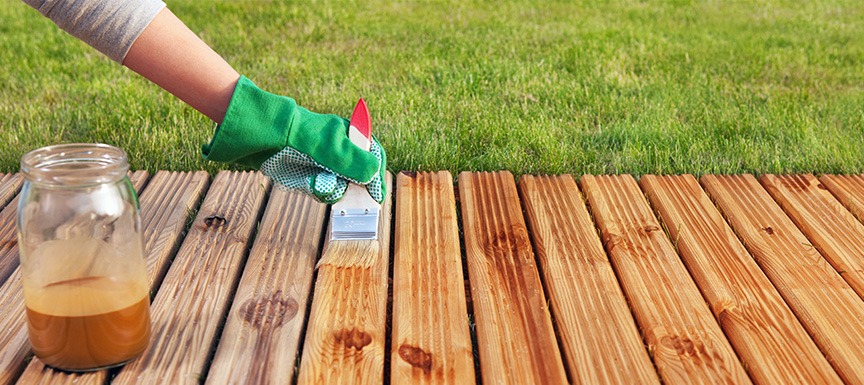 Most of your home's wooden furniture and equipment is made out of treated wood. But if there is any untreated wood, there are high chances of accumulating water. And as a result, the wood will expand and contract when the water dries up. This continuous cycle will crack and warp, thereby damaging the wood.
So quickly, waterproofing wood will provide your belongings with complete protection. Some of the protections that you will get through waterproofing are:
Reduced scuffs and scratches from enormously heavy traffic.
Minimised warping, cracking, and splitting of wood.
Decreased discolouration, stains, prone to breakage, wear and tear, etc.
Preventing organic growth like mould and mildew.
Types of Waterproofing Available
Waterproofing wood floors is crucial, just like waterproofing all other wooden materials. Waterproofing wood can sometimes be a hectic task. Nevertheless, it will provide you with significant benefits in the long run. Now that you know the importance of waterproofing wood, it is time for you to learn about the available types. They are:
Stains

The staining method has been prevailing for quite a long time for wood waterproofing. Stains tend to remain deeply seated within the wood to protect it. A protective layer of paint is added to the wood, enhancing the natural beauty and covering it completely.

You can always add a lustrous sheen to your wooden furnishings with a wide range of products from Nerolac. Click here to take a look at the range of wood coatings.

Sealers

Sealers are usually transparent paints applied over the wood furnishings to make them waterproof. It helps provide a protective layer over the wood and showcases its natural beauty. The sealer protects the wood and prevents moisture from seeping in.

Nerolac hosts a unique sanding sealer for wooden furnishings. You can click here to know more about this product.

Now that you have some ideas about waterproof paint for wood let's conduct a comparative study on the colours.

Clear vs Tinted

Clear waterproofers provide a protective layer to the wood and allow the wood's natural grain to be visible. In a way, it prevents the grains from fading away.

On the other hand, tinted waterproofers enhance the look of the wooden furnishings. Besides, it also offers better UV protection and sometimes allows the grains to show through.

Oil vs Water

Waterproofers come with two kinds of base - oil and water. You must know that oil based waterproofers have more excellent durability and penetrate deeply through the wood.

On the other hand, water based waterproofers are easier to clean. They can also be applied in damp conditions with perfection.
Steps to Waterproof Wood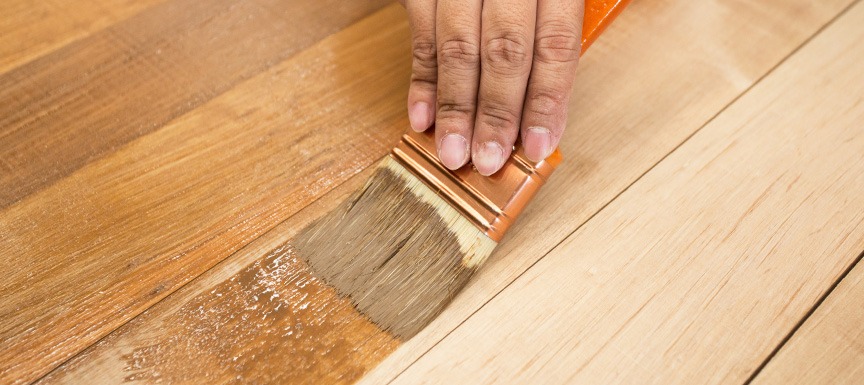 Waterproofing wood is quite an easy procedure, but you must do it carefully. This will help you prevent water from damaging any of your wooden furnishings. You can reapply your desired waterproofers after every five years for thorough maintenance.
If you wonder how to paint wood to make it waterproof, we will guide you through it. Go through the easy step-by-step guide of applying waterproofers.
Step 1:
First, you need to thoroughly clean the wooden surface and remove all the dirt and grime.
Step 2:
Second, you need to sand and smooth the wooden surface to adhere to the waterproofer easily.
Step 3:
Third, choose the waterproofer you wish to apply to your wooden furnishings.
Step 4:
Fourth, you can either use a painting brush or a spray machine to apply a coat of waterproofer. You can leave it to dry for some time.
Step 5:
Fifth, after the first coat dries, you need to sand down the surface again.
Step 6:
Sixth, finishing off with the sanding, you can reapply the next coat of waterproofer.
Step 7:
Lastly, it would be best to leave it to cure and dry for a few days under the sun or natural air.
Benefits of Waterproofing Wood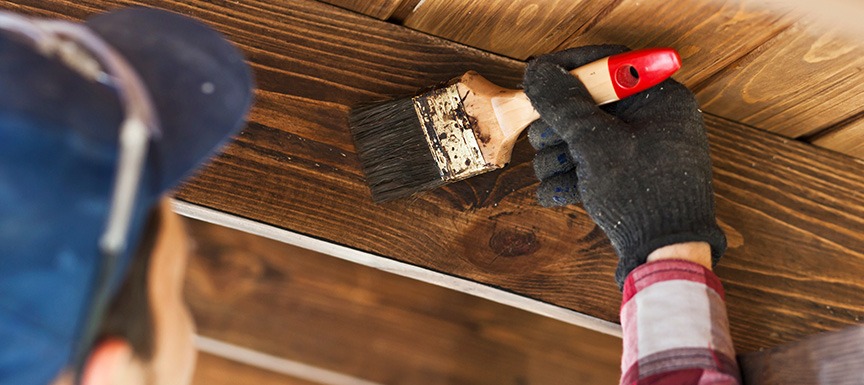 Waterproofing wood provides lots of benefits. If you know how to waterproof wood, you must waterproof your wooden furnishings at once. Some of the benefits of waterproofing are:
Enhanced durability.
Easy cleaning procedure.
It intensifies the beauty and provides a stylish aesthetic.
It prevents moulds and mildew from growing.
It makes the place safer for kids and pets.
Durable Wood Varieties for Outdoor Use
Wooden furniture is usually made out of durable wood. But there might be cases where the table is not made with treated wood. So when it comes in contact with water, there are high probabilities of getting damaged. It is always advised to use the most durable lumber outdoors. Some of them are:
Cedar
Acacia
Eucalyptus
Cypress
Teak
Redwood
Robinia, etc.
To Conclude
When choosing the perfect waterproofers for your wood, it is ideal to choose the best. Hiring trained & expert painters and using the best professional painting services like Nerolac will help you to do your work instantly.
Next Steps?
Want to know which colours will look good on your walls? Use Nerolac's Colour Palette and get colour combinations of your choice in seconds.
Looking for "paint shop near me"? With Nerolac Store Locator you can find a paint store nearest to your location in seconds!
Warm or cool, loud or subtle, fiery or earthy, whatever be your choice, we have what you want.
Nerolac Paints, a leading paint company in India offers a wide range of wall paint colours & painting services & solutions for homes & offices.
Get In Touch
get our updates in your inbox!