The colours of our house are chosen to enhance the aesthetic beauty of our home. But when it comes to attracting positivity or negative energy, you probably want to consider Vastu colours for houses to ensure that things are right. In this article, we are listing the best colours for various sections of your house that you should consider during your next home renovation.
1. Home Exteriors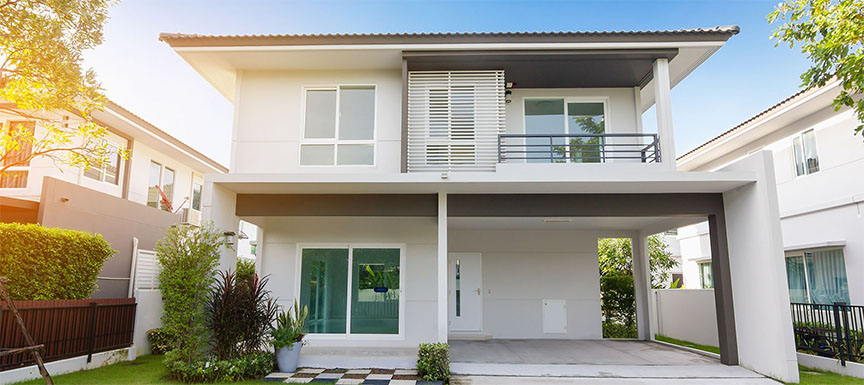 Starting from the first thing that your guests will see when they visit you, your home exteriors should be in line with the Vastu colours for houses. The entrance of the house is one of the most crucial things as that's the place where all the energy enters your home. Pick inviting yet elegant
exterior paint
as well as the main door. Colours, such as the ones from our
Masterpiece Whites range
should be ideal. Don't forget to add a touch of green to make the entry a grand and inviting one. You can grow lush shrubs and grass, place potted plants or hang planters depending on the space available you have.
2. Living Room
The living room is the place where you probably spend most of your time. Plus, you will welcome your guests to this part of your home first. Therefore, you must put a lot of consideration to the home paint colours you pick for this room. The idea of wall colours according to Vastu is that you must choose something welcoming and soothing at the same time. White, beige, and tan are considered to be the best
living room colours
. However, you must also keep your personality in mind while selecting Vastu colours. The best way out in such a situation is to combine whites and beiges with blue, red, pink, purple, and other
home painting colours as per your personality
.
3. Bedroom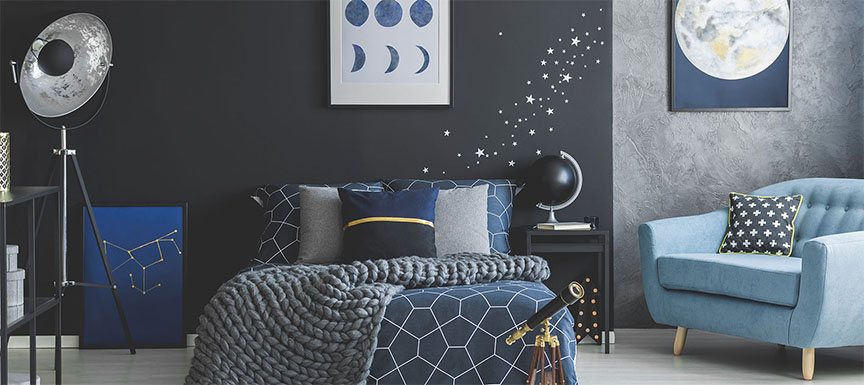 You hit the bedroom after a hectic day or whenever you wish to relax. So it goes without saying that the wall colours according to Vastu for your bedroom should be the ones that bring tranquillity, relaxation and induce sleep apart from being the romantic shades of love and happiness. The master bedroom should be in a south-west direction, and the bedroom colours that you must use should be blue, brown, pink, and lighter shades of grey. Also, make sure that you keep the furnishings to the minimum for positive vibes.
4. Dining Room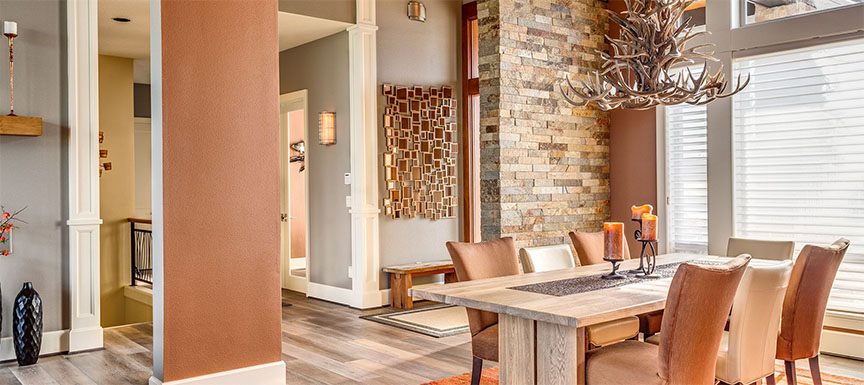 A place where the family members come together to eat and spend some time together needs to have the right environment. The dining room should be in the west direction, or if not, then in the north or east. This room should always be spacious, hospitable and comfortable. The ideal Vastu colours for the dining space are subtle green, pink, orange, yellow, cream or off-white. If that makes your dining area too delicate-looking, you can add contrast with artworks, dining furniture, and utensils.
5. Kitchen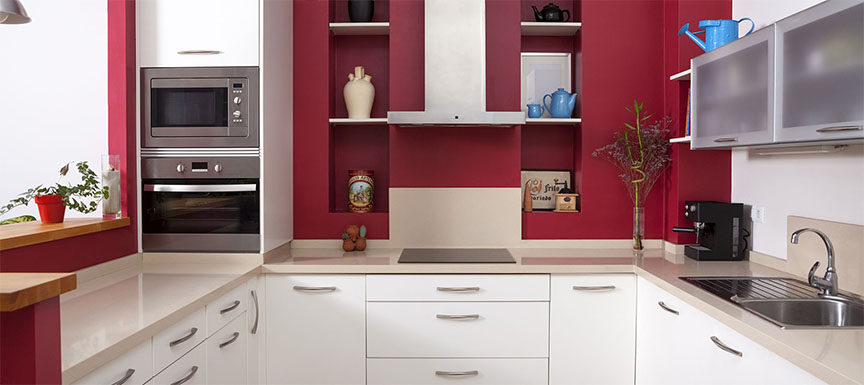 The place where all the delicacies come out from has to be comfortable for the person cooking in there. Bringing the element of Vastu here, the ideal place where the kitchen should be in your home is the south-east direction. Also, you might know that this direction of the house is the place of the "Fire" element and fire is represented by red colour. Hence, the apt Vastu colours for home kitchens are red or orange. If you aren't a fan of pure red kitchen walls, you can add a dash of red on wall detailings or kitchen furnishings. You can also add a tinge of white, green, yellow, pink, or light chocolate. Dark colours like black and grey are a big NO-NO for the kitchen area.
6. Guest Room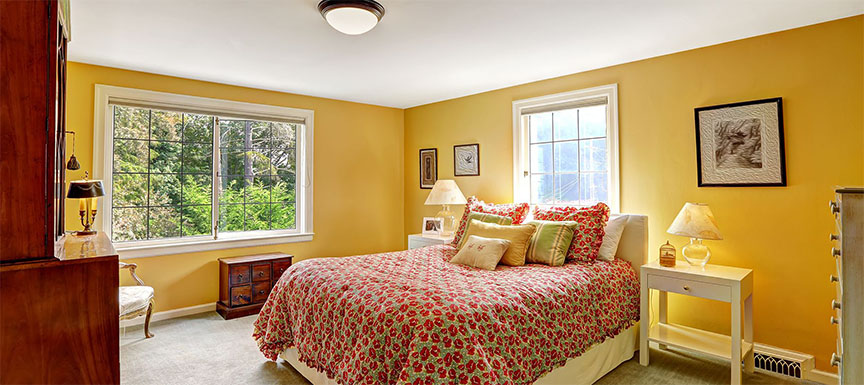 If your house has a guest room, you need to consider Vastu colours for this room as well. Ideally, the guest room should be in the north-west direction. The room should have a welcoming and relaxing environment so that your guests feel good whenever they are in there. Considering the feel you need to create and the direction of this room, you must paint this room with lighter shades of yellow, orange, lavender, blue or green and pair them with whites. These Vastu colours for homes together help in creating a delightful and welcoming ambience. Apart from these, here's the list of Vastu colours for other parts of your home: Kid's Room: Orange, pink, blue, green, lavender, and other happy colours. Study Room: Green, blue, lavender, beige and light purple. Prayer Room: Light yellow, white, cream, light green, light blue etc. Avoid dark colours. Garage: White, cream, yellow and other light colours. Bathroom: Shades of white, black, grey, pink and all the pastel shades. So, it's now time to get started on making your home ready as per Vastu Shastra so that you can attract all the positivity that you deserve.
Next Steps?
Want to know which colours will look good on your walls? Use Nerolac's Colour Palette and get colour combinations of your choice in seconds.
Looking for "paint shop near me"? With Nerolac Store Locator you can find a paint store nearest to your location in seconds!
Warm or cool, loud or subtle, fiery or earthy, whatever be your choice, we have what you want.
Nerolac Paints, a leading paint company in India offers a wide range of paint colors & decorative wall painting solutions for homes & offices.
Get In Touch
get our updates in your inbox!