Did you know that you can also play around with your ceiling colour to add some style to your home? Why limit your creativity to just the living room and bedroom walls when you can try some ceiling colour designs too? Most of us have stuck to the safe choice of a white ceiling. Let's break through this usual trend of ceiling paint design and try some of these inspiring pop ceiling colours.
1. Passionate Plush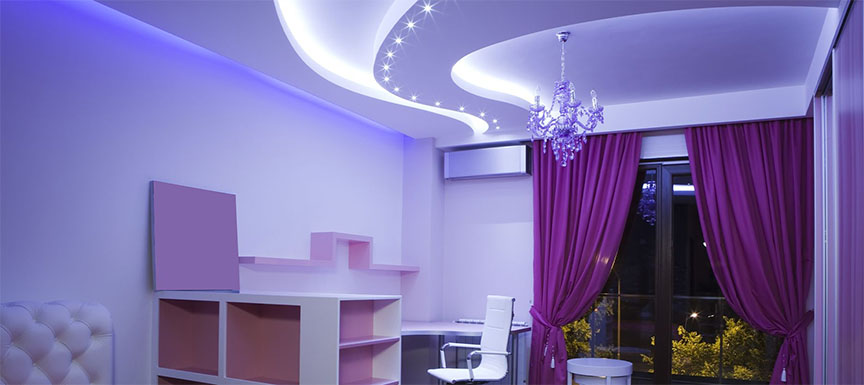 The richness of purple will make you tempted to try this ceiling colour for your living room or even bedroom. It's up to you which shade of purple you want to choose for stunning ceiling paint ideas. Make sure that you strike the right balance of colours for your ceiling and the walls. A deep purple ceiling colour paired with steel grey walls will look marvellous. And for a more delicate theme, pick lavender ceiling
paint colour
with the almost white shade of purple walls. Complement the decor with metallic furniture and flowers for an awesome place to live in.
2. Bold 'n' Black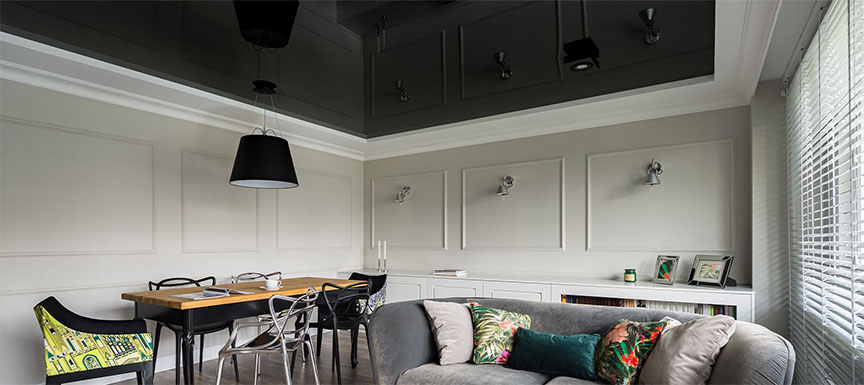 Let's talk about taking a bold move, and why it is okay to do so. If you are ready to paint your home walls with dark colours like black and graphite grey, then why not the ceilings? Ceilings painted dark grey or black create a dramatic and intimate feeling in a room. Since these ceiling paint colours can make the ceiling feel lower, homes with high ceilings or abundant natural light are an excellent choice to experiment with such darker fall ceiling colours. And if you think painting the walls with similar colours will make your home look dark, limit the walls to whites or off-whites.
3. Sunny Rays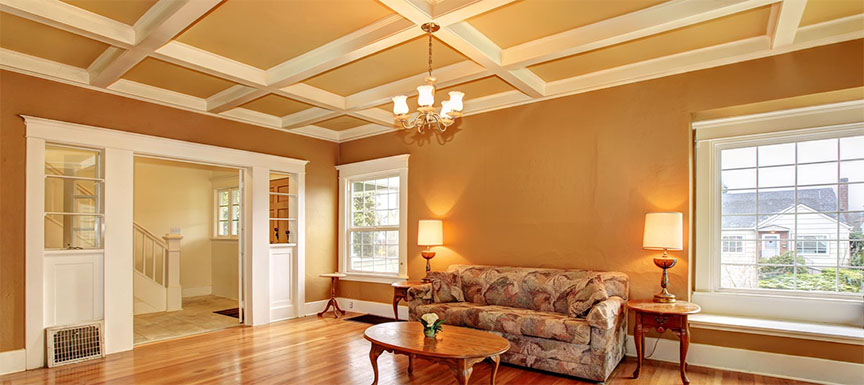 Let the rays of the run enter your house and take over the ceiling colour. Brightly coloured ceilings like yellow ceilings are perfect for fun, happy spaces. With its warmth and energy, yellow transforms an ordinary space into an interesting and happy space. Paint your living room or bedroom walls with a cute shade of peach or a combination of yellow and white for a fresh-looking space.
4. Just Like Sky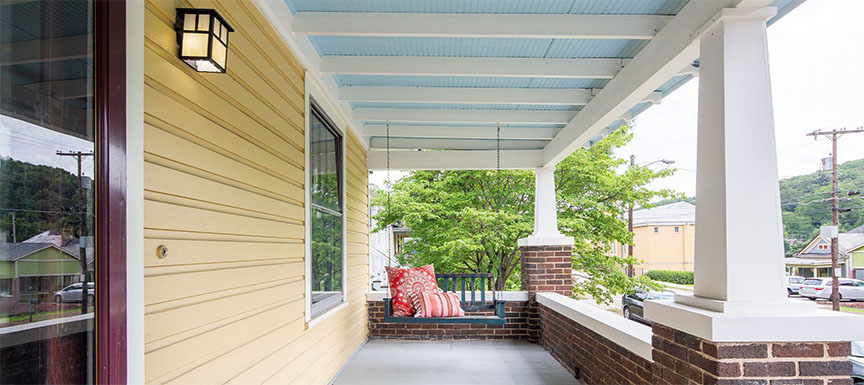 Imagine that when you sit in your living room and look up, you feel like you are sitting under the morning sky. The feeling is easy to achieve by choosing blue ceiling paint colour. From the bedroom to the bathroom or even the kitchen, blue ceiling paint colour gives a light and airy feel to the plainest space. It also adds an appropriate amount of fresh colour to existing neutrals such as white, beige, grey and wood tones. You can also add some textures of clouds on your ceiling for added sky-like feels.
5. Subtle Neutrals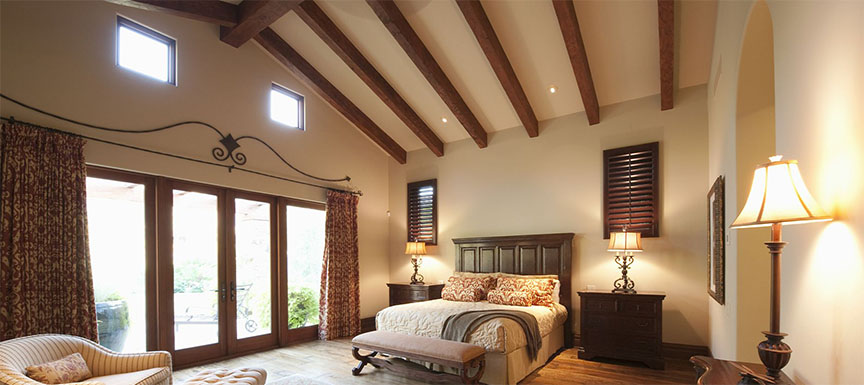 If you are still a little sceptical about picking these
ceiling paint colours
, you can take a baby step. Go beyond white, but not too much. Try subtle shades like cream and beige for your living room. Decorate the space with fairy lights, chic lamps, wooden furniture, and delicate wall ornaments. You can even hang live-sized framed artworks on pastel-coloured walls for a stylish space. All of these elements will make your room look spacious and classy. The idea is to make the 'fifth wall' the focal element of your room, whether it's the living room, bedroom, or kitchen. You can either have a plain ceiling using these fall
ceiling colours
or can add a dash of contrast on the mouldings and ceiling beams. Moreover, you can also try some creative textures and designs on the ceiling like marble or wide stripes. All these ideas can convert your otherwise plain-looking space into a wonderful room that attracts the attention of your guests. Try these colours, and you'll never look back to the usual white ceiling colour designs.
Next Steps?
Want to know which colours will look good on your walls? Use Nerolac's Colour Palette and get colour combinations of your choice in seconds.
Looking for "paint shop near me"? With Nerolac Store Locator you can find a paint store nearest to your location in seconds!
Warm or cool, loud or subtle, fiery or earthy, whatever be your choice, we have what you want.
Nerolac Paints, a leading paint company in India offers a wide range of wall paint colours & painting services & solutions for homes & offices.
Get In Touch
get our updates in your inbox!