Painting is an effective way of giving your home a much-needed facelift, without breaking the bank. Whether you are decorating your new home, or renovating your house for a fresh look, or just planning to stage your house for a sale, painting can be just the right tool to give your home a little makeover. The right home paint colour, however, can make or break the appearance of your home. Thus, we offer a few wall colour ideas to help you select the right paint that will improve the outcome of your home painting endeavour with ease.
Using the Psychology of Colour
Each home colour has an impact on each occupant's mood and personality. Thus, when picking wall paint colours, you choose the shades that set the right tones for your home. Here are a few commonly chosen home paints are their effect, Red adds to the energy of a room. When used in a kitchen or dining room red adds to appetite and inspires conversations.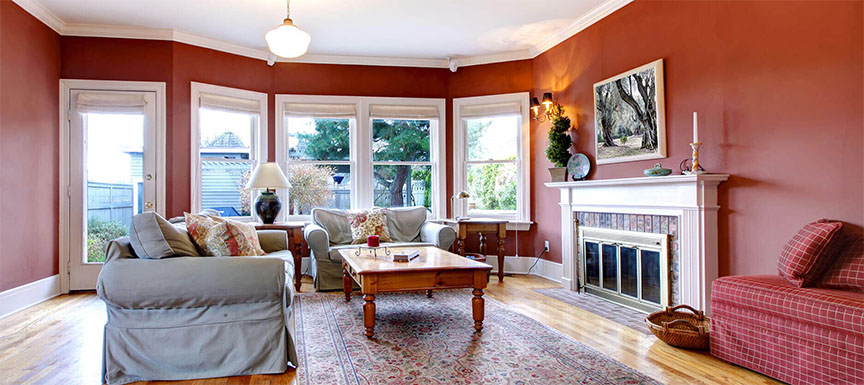 Yellow arouses positivity, cheerfulness and creativity. With a happy vibe, yellow also sparks communication, hence it is a perfect fit for living room walls.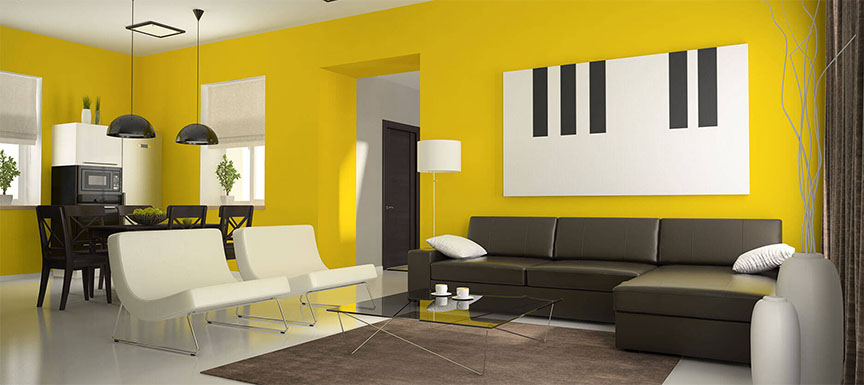 Blue evokes tranquillity and calmness, which is why it is a common paint colour used for bedrooms and bathrooms.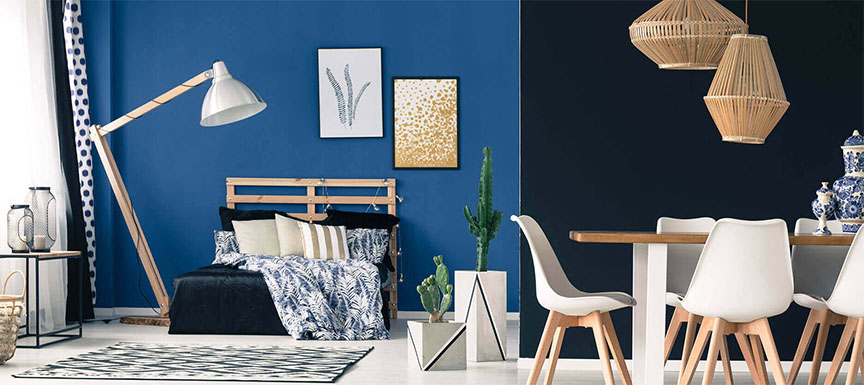 Green inspires joyousness and promotes tranquillity and health owing to its close connection with nature.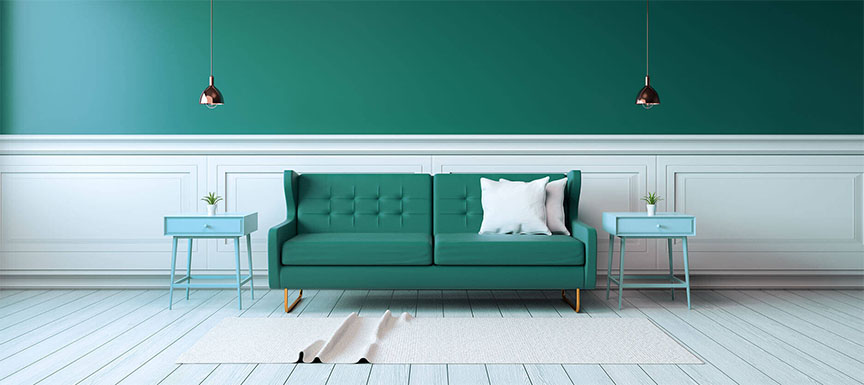 Purple encourages serenity and excitement owing to its mixture of blue and red hues. Purple is also an aristocratic colour which has been considered indicative of luxury, and sophistication for centuries.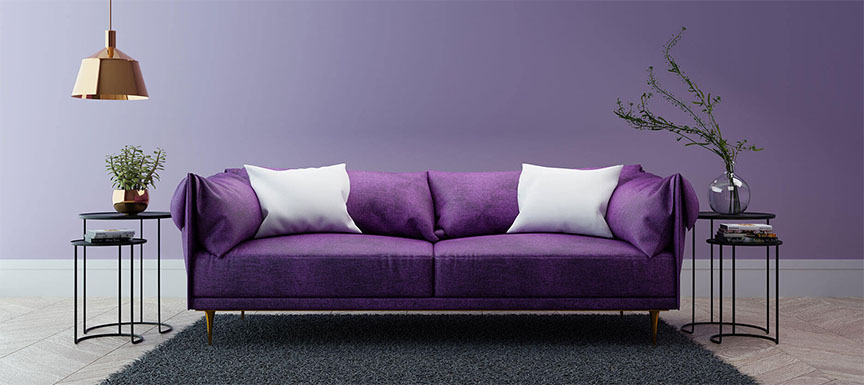 Orange exudes energy and intensity making it an excellent choice for a fitness room or activity room.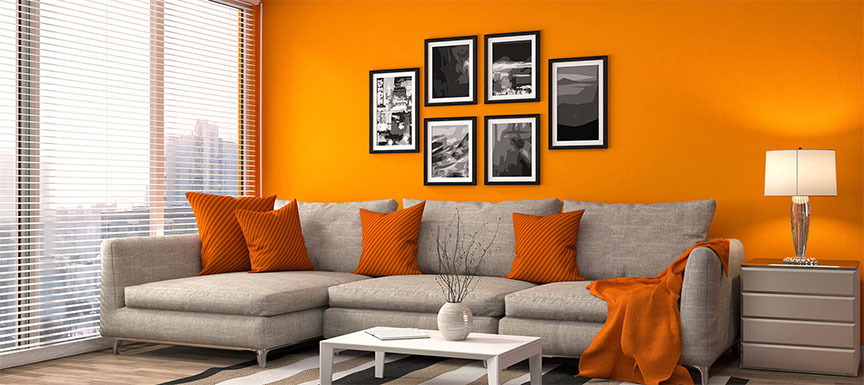 Brown is an earthy neutral that can make a room feel warm and welcoming, thus, making it a standard accompaniment for living and dining rooms.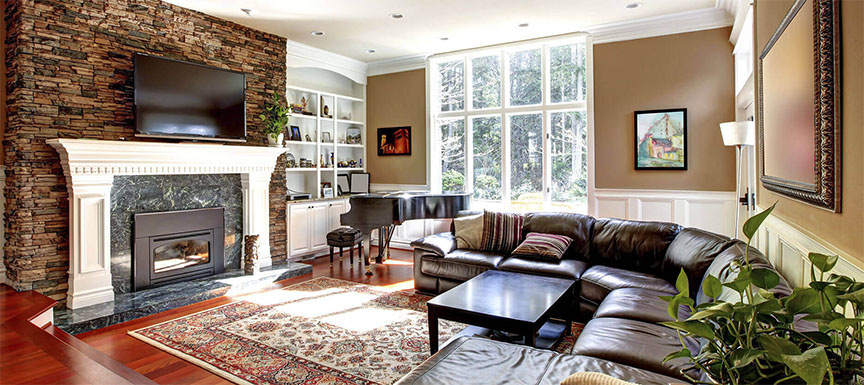 Choose the Right Paint Type
Choosing the
right home colour
requires choosing between oil and latex paint colours. You must evaluate the difference between the two for an informed decision. Oil-based paints are slow drying yet viscous, thus, offering a higher coverage in a single coat. However, oil-based house paint colours are prone to cracks and fading over time. The paints also emit VOC fumes that make them risky for health. Cleaning the paint requires the use of chemical solvents like mineral spirits. Yet, Oil paints are a superior choice for door trims and wooden surfaces, as they withstand wear and tear better than their latex counterparts. Latex paint, are water-soluble paints, which dry faster and do not become yellow over time. Environment-friendly, low VOC and is easily cleaned up with soap and water; latex paints are flexible and versatile, this makes latex house paints the preferred wall paint choice.
Choose the Right Finish
If you have been to the paint store or visited our website, you must have witnessed the overwhelming paint finishes available. Paint finishes are classified based on the glossiness (sheen) of the paint; the higher the gloss, the more durable the paint finish. Thus, the finish of the paint is vital when choosing
house paint colours
, as the usability of space, the traffic, and environment of the room affect different sheens in different ways. Some of the common paint finish you can choose are, Matte or flat home paint colours have no shine, making them susceptible to stains and cannot be washed easily. However, Matte paint colour is a preferred choice for ceilings as they have low reflectivity that hides imperfections. Eggshell has a low lustre, hence a better resistance to staining than Matte finish. It is a perfect fit for low traffic areas. However, eggshell finish resists stains and can be wiped with a wet rag, making it an ideal finish for bathrooms, kids' rooms and bedroom walls. Satin is a velvety pearl-like finish that can be easily cleaned. A favourite for living rooms, lobbies, hallways, and bedroom walls owing to the durability and chic appearance of Satin finish. Semi-gloss is a reflective finish that is best for heavy traffic areas prone to staining, such as kid's rooms, bathrooms, kitchens, along with application over trims, doors or wooden furniture. High gloss has the brightest sheen and is the easiest to clean, making it an excellent choice for kitchen cabinets, and doors. Owing to the reflectivity the finish is unfit for home walls. When you have the paint colour, finish and types nailed down to perfection, the outcome of your painting endeavour is bound to give striking results.
Next Steps?
Want to know which colours will look good on your walls? Use Nerolac's Colour Palette and get colour combinations of your choice in seconds.
Looking for "paint shop near me"? With Nerolac Store Locator you can find a paint store nearest to your location in seconds!
Warm or cool, loud or subtle, fiery or earthy, whatever be your choice, we have what you want.
Nerolac Paints, a leading paint company in India offers a wide range of paint colors & decorative wall painting solutions for homes & offices.
Get In Touch
get our updates in your inbox!