Gone are those days when you pick any random bedroom interior colour for your kids' rooms. Kids, especially teenagers these days believe in exploring countless options and then deciding the best interior colour shades for their bedrooms. And it is actually a great thing, because after all, your kids will spend the maximum amount of time in those rooms, so everything in their room should be as per their taste. But a little help from parents always helps. So while you should give complete freedom to your growing lil' ones, you must also help them in picking the best interior colour combination. You can try out some of these combinations; they never fail to impress.
1. Sophi 'n' Serene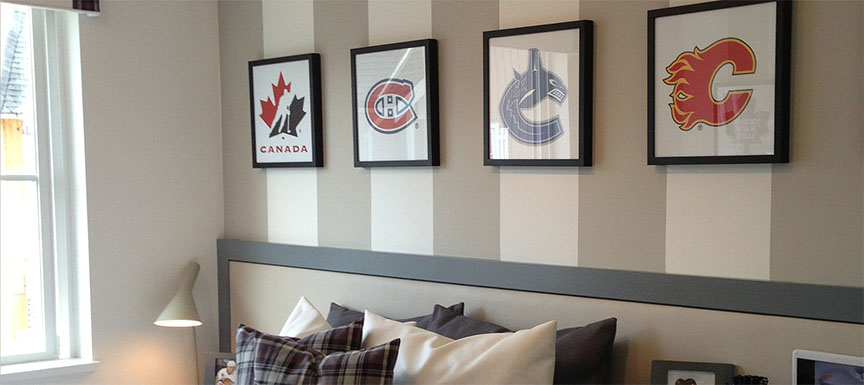 You can play around with sophisticated colours that bring excellence and neatness to the ambience. Pick two or more rich-looking colours like serious shades of grey and serene beiges for a spectacular interior colour design. If you go by the colour psychology, these colours evoke the feeling of positivity and calmness, something that teenagers should surround themselves with in their growing years.
2. Them-Pasteled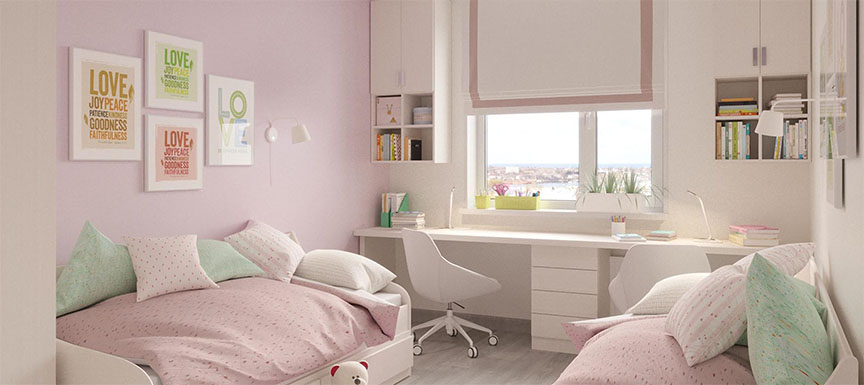 Taking the feeling of calmness further, you can also try out a combination of muted colours or pair one of them with whites. Pastel shades like Candice (4105), Daisy Chain (2018), Grape Green (2583), and other muted hues of different colours, when paired with white, look subtle and beautiful. This interior colour combination acts as a perfect backdrop for all kinds of decor settings.
3. Soaring Skies and Soulful Seas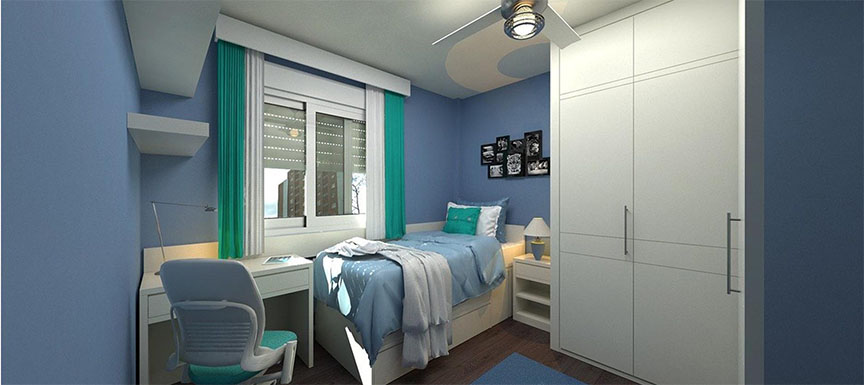 If your kid is a nature-lover, get inspired by the beauties of the natural world. Pick a beautiful shade of the sky or a refreshing hue of clear-water beaches and throw them on your teenager's bedroom walls. A shade of blue or sea green like Blue Bird Lake (4272), Sitka (2459), Hula (2522), or Big Splash (4351) with white ceiling or feature wall will never fail to disappoint. Combinations made with these interior colour shades will redefine the space and keep your kids cheerful all the time.
4. Emboldened Energy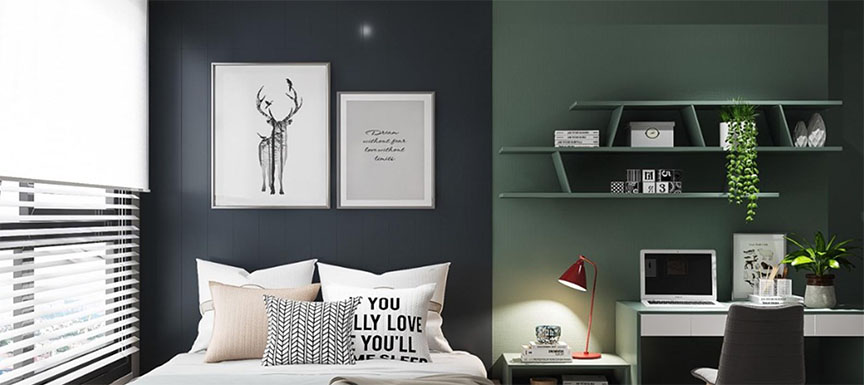 For kids who like a dash of intense colour around them, this bedroom interior colour combination is apt. All you have to do is pick a dark hero colour and pair it up with another dark colour, slightly lighter tinge, or white. Dress up your kid's bedroom walls with a deep colour like Salsa Pink (4124), Christmas Holly (2559), Deepest Eyes (4251), or Pot of Gold (4036) and add a contrasting element - like white doors and ceiling or grey feature wall. Just don't refrain from experimenting with dark interior colour shades if your kid wants to; these colours don't cause any harm.
5. Grey-on-Grey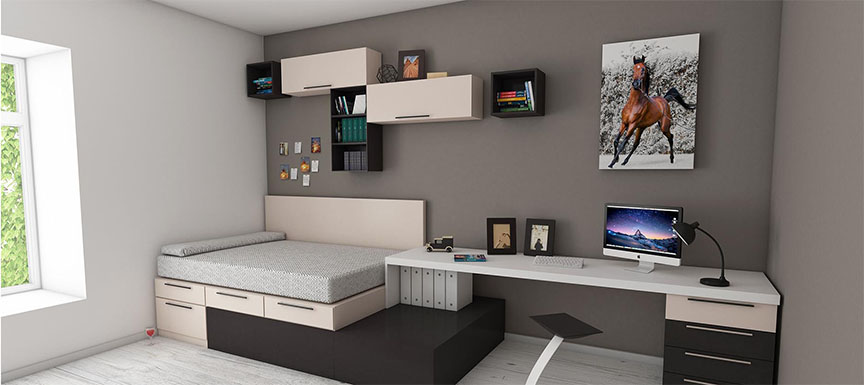 Nothing works better than a strategically-planned colour play of mighty shades of grey. Greys are modern yet contemporary, and fit practically any decor theme. So, select your favourite shades of grey, just two or three, and try something unusual. We suggest a checkers or striped pattern that bring out the best of light and dark hues of grey. If not, there are
several other wall painting textures and patterns
that you can create using greys. Teens love wall art, murals, posters and other accessories. So while you focus on choosing the best bedroom or home interior colour combination for your smart kids, keep accessorising their room at the back of your head. Keep your kid by your side, listen to their expectations from their dream bedroom, and work towards it.
Next Steps?
Want to know which colours will look good on your walls? Use Nerolac's Colour Palette and get colour combinations of your choice in seconds.
Looking for "paint shop near me"? With Nerolac Store Locator you can find a paint store nearest to your location in seconds!
Warm or cool, loud or subtle, fiery or earthy, whatever be your choice, we have what you want.
Nerolac Paints, a leading paint company in India offers a wide range of paint colors & decorative wall painting solutions for homes & offices.
Get In Touch
get our updates in your inbox!