"We are not afraid to be a bit different, to make shades that are bold." - Francois Nars A bold and daring accent wall can be just what your home needs to add interest and captivate the beholder. Most homeowners are petrified of trying bold and untamed hues, sticking to the fundamental muted tones that make a room dull and uninteresting. A well-coordinated colour scheme that accentuates a bold accent colour over a focal wall yet pacifies the hues with muted neutrals is the perfect recipe for eye-catching interior décor. Try amongst our bold and daring wall colour ideas that revolve around a brave accent wall and well-coordinated muted nudes, for an astonishing transformation in your home décor.
Striking Cobalt
An intense blue accent wall undoubtedly captivates visitors. An accent wall in a stunning Cobalt blue colour makes an impressive focal point in any room, especially the living area. A perfect balance for the bold wall painting idea is complimenting the striking cobalt blue and balancing it with pink or lavender hues. Accessorizing the room, with stark white furnishing, creates a fresh and elegant contrast that is a bold and vivid wall painting idea for your home walls.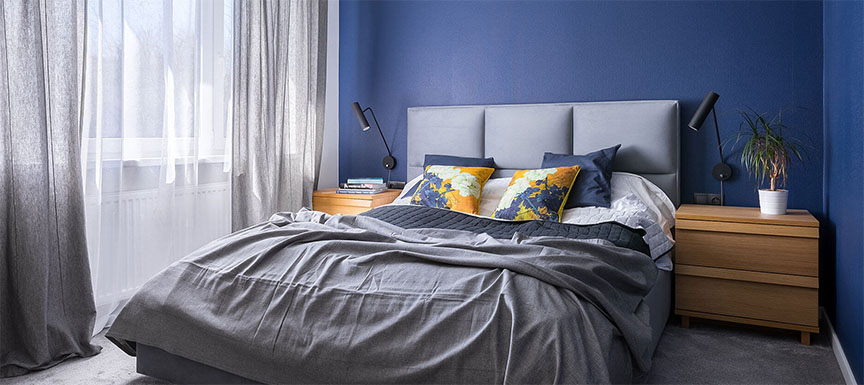 Bright Coral
A well-dressed dining room decorated with a coral wall accent can be just the unexpected touch that can brighten up an otherwise traditional space. Decorate the room using an oriental rug on the floor, and a peachy coral focal wall for a vibrant nuance that uplifts the classic furnishings and ornaments.
Soothing Pink
Not only deep and dark hues can make an impact on the focal wall. A
wall painting scheme
, with a soft pink accent wall that is soothing yet impressive, can create a tranquil feel in a living room. Using the Pink hues on an accent wall creates a soft focus, which can be accentuated with bold artwork, contrasting trims and floral draperies for an elegant finish.
Warm Reds
A warm, inviting and infinitely elegant living room can be attained by merely covering a large, conspicuous wall with a deep and daring red. Red gives the room depth and focus, evoking passionate emotions. A rich terracotta red is a perfect complement to antique furnishing and bold hues. An accent wall in a vibrant red hue, accompanied by varying shades of Red as accents can create a unified luxurious look.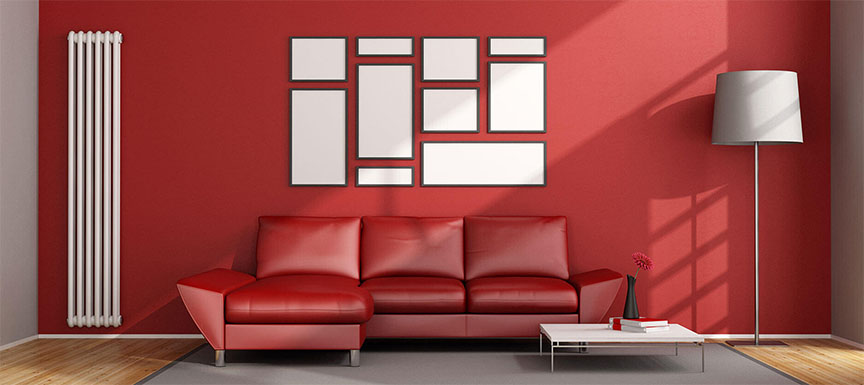 Wall colour ideas
that are modern and chic can add interest to the dining area. A cool blue-and-white framework sets an elegant backdrop for classic white furnishings and bolder blue hues. Furthermore, Blue colour has a calming effect, which evokes a stress-free environment for the occupants of the home, making dwellers feel well-rested and fresh.
Bright Tangerine
Invigorating orange is the perfect remedy to bring an energetic and fun vibe to an otherwise dull space. Orange is excellent focal wall colour, but you have to get the tone just right. Imagine a space that everyone passes through that makes them cheerful, and happy. Owing to orange an otherwise neglected area can set an optimistic tone for occupants and visitors alike.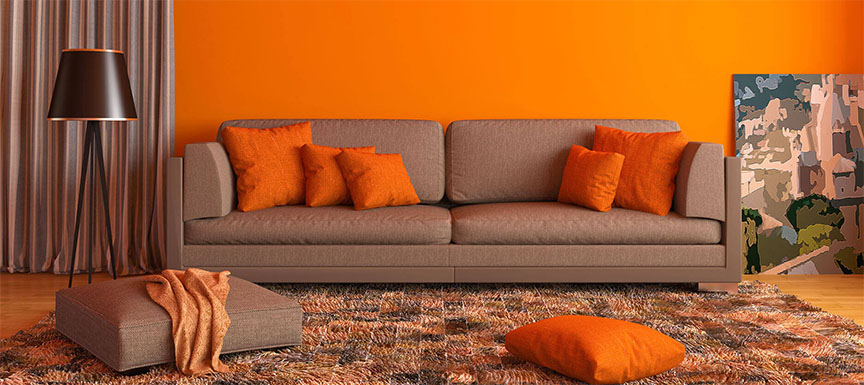 A well placed and painted feature wall can be just the touch your home needs for an eye-catching transformation. Wall painting schemes that complement the feature wall can further help accentuate the décor and add glamour and interest to your home, making heads turn in admiration.
Next Steps?
Want to know which colours will look good on your walls? Use Nerolac's Colour Palette and get colour combinations of your choice in seconds.
Looking for "paint shop near me"? With Nerolac Store Locator you can find a paint store nearest to your location in seconds!
Warm or cool, loud or subtle, fiery or earthy, whatever be your choice, we have what you want.
Nerolac Paints, a leading paint company in India offers a wide range of wall paint colours & painting services & solutions for homes & offices.
Get In Touch
get our updates in your inbox!